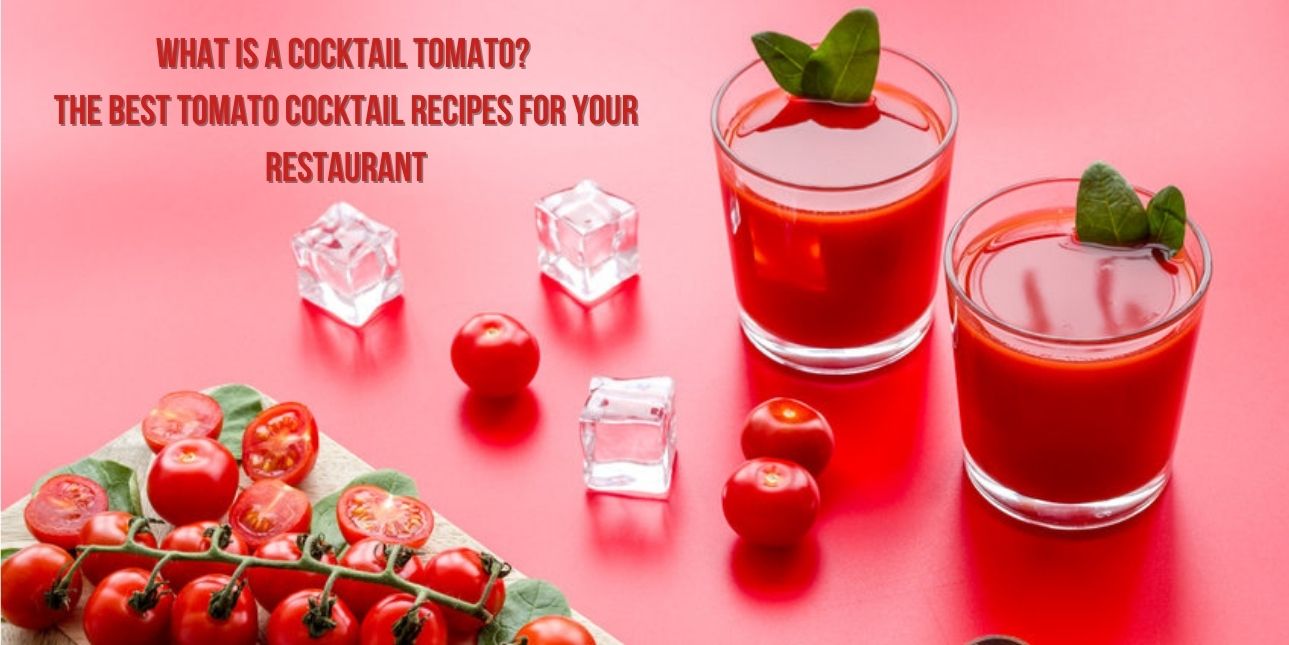 Tomatoes are a highly versatile food item that can be used in a salad or served as a snack. Cocktail tomatoes can also be used for garnishing a dish or making delicious cocktails. You can serve cocktail tomatoes in any dish to make it a sweet treat. The rich aroma of tomatoes is perfect for making cocktails; you can use tomato juice and blend it with alcohol to create fresh cocktails. You can also use cherry tomatoes for garnishing your cocktail.
In this article, we discuss cocktail tomatoes, the best ways to prepare cocktail tomatoes, the best tomato juice cocktail recipes for restaurants, and the essential equipment needed for serving cocktails in a bar or pub.
What is a Cocktail Tomato?
Cocktail tomatoes are grown in clusters on the vine. They are smaller than most tomato varieties but larger than cherry or grape tomatoes. Cocktail tomatoes are juicier and sweet. They have higher sugar content than regular varieties of tomato.
How to Prepare Cocktail Tomatoes For Any Dish?
Cocktail tomatoes rarely need any preparation. You can serve cocktail tomatoes fresh or cut them in pieces and use them to make any savory dish. But if you wish to cook cocktail tomatoes, here are a few steps that you should follow:
Baked: If you want to serve baked tomatoes, then you can bake them in an oven for 15 to 20 minutes.

Sauteed: You can saute tomatoes for any savory dish. Depending upon your needs, you can saute tomatoes for 6 to 10 minutes.

Microwave: You can heat cocktail tomatoes in a microwave for 3 to 6 minutes.

Grilled: Grill tomatoes with other vegetables or meat for 6 to 10 minutes to retain the flavor of tomatoes.
The Best Tomato Juice Cocktail Recipes For Your Bar or Restaurant
Tomatoes are perfect for making delicious cocktails. You can use tomato puree, tomato juice, and uncut tomatoes to make various types of cocktails. You can blend tomatoes with sugar, salt, spices, soda, and alcohol to make popular cocktails. Here is a list of few popular tomato juice cocktail recipes you can use for your bar, pub, or restaurant:
The Heirloom Cocktail:

Fresh tomatoes add a hint of freshness to a classic martini, and it also increases the aroma of ripe tomatoes. Tomatoes can accentuate the core flavor of gin and make it an enriching tomato cocktail. You can also add vermouth to make the flavor of tomato more subtle.
Botanist Gin

Dry Vermouth

Tomato Water

Sea Salt

Lemon For Garnishing
How to Make a Heirloom Cocktail
You can add all the ingredients to a mixing glass, and you can add ice and stir it until it is chilled. You can strain the tomatoes into a chilled cocktail glass and then garnish it with a lemon peel.
Tomato Paloma:

Tomato paloma is one of the best tomato alcohol drinks you can serve in your bar or pub. The main ingredients of tomato paloma are fresh tomatoes, peppers, and other herbs. You can add umami to a tomato paloma to make it more balanced; it will make it sweeter and tone down tequila's effect.
Here is the list of ingredients that you will need to make a tomato paloma:
Tomato-infused Tequila

Sugar

Grapefruit Juice

Fresh Lime Juice

Club Soda

Pepper

Mint Sprig

Kosher Salt

Lime Wedges
How to Make Tomato Paloma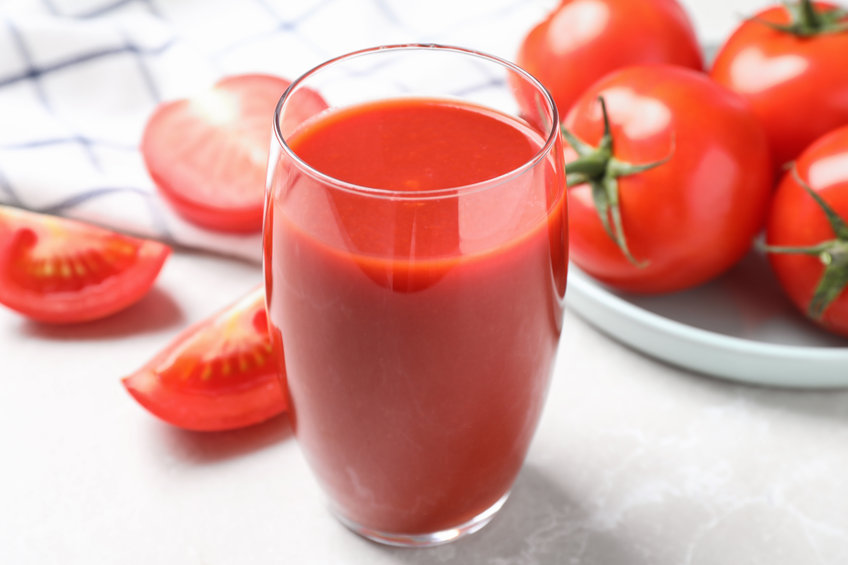 You can pour the kosher salt into a plate, and then you can rub the rim of a highball glass with a lime wedge and then dip the rim in salt and keep the glass aside. Then you can add grapefruit juice, lime juice, and sugar to a glass and stir it until the sugar blends with the juice. After that process, you can pour over ice into the prepared glass, add tequila with club soda, and stir it again. You can garnish your tomato cocktail as desired.
Process of Making Tomato-infused Tequila
The process of making tomato-infused tequila starts by chopping fresh heirloom or yellow tomatoes; then you can place them in a bowl with some kosher salt. Let the mix rest for 30 minutes or so, and then you can transfer the tomatoes into a processor. You can add tequila and mix it in the processor until it gets chopped roughly. Then you can take a coffee filter or cheesecloth and pour the tomato mixture on it. Let it drip for a few hours, and then remove all the solid parts and keep the tequila in a refrigerator until served.
Clear Mary Tomato Juice Cocktail:

In this cocktail version, you will find the traditional tomato flavor and spices to make it richer and delicious. In this particular recipe, you can try adding spices and cooking preparations to make savory foods.
Here is the list of ingredients that you will need to make aClear Mary Tomato Juice Cocktail:
Vodka

Sweet tomato juice

Syrup or something similar

Fresh Lime Juice

Club Soda

Celery Ribbon For Garnishing

Cherry Tomatoes on a Cocktail Pick
How to Make a Clear Mary Tomato Juice Cocktail
You can add all the ingredients to a cocktail shaker and add ice into the blend. Shake it till it becomes super-chilled. Then you strain the blend into a glass over fresh ice cubes from commercial ice machines and add some soda over it. Then you can stir it gently to retain the aroma. Finally, you can garnish your cocktail with cherry tomatoes and celery.
Green Tomato And Serrano:

Green tomato and serrano cocktail is one of the most unique alcoholic drinks that you can create and serve. For this tomato vegetable juice cocktail, you will need green tomato water that is fermented. It adds a sour and tangy flavor, which is then infused with syrup and serrano peppers. You can also add salt and muddled green chili peppers. The flavor of unripe green tomatoes blends well with tequila.
Here is a list of ingredients that you will need for making green tomato and serrano cocktail:
Tequila

Mezcal Joven

Salt

Green Tomato Water

Lime Juice

Syrup

Chilli Pepper

Grapefruit Soda

Mint Sprig

Grapefruit Swath
How to Make a Green Tomato And Serrano Cocktail
Add lime juice, syrup, and muddled chili peppers in a cocktail shaker. Then you can add tequila, mezcal, green tomato water to the mix. After that, you can also add ice and shake it until it is well-chilled. Then you can strain all the ingredients in a glass over ice cubes or mashed ice. Top it with grapefruit soda and stir it gently to mix the ingredients. To garnish your cocktail, you can use mint sprigs and grapefruit swath.
What Are the Essential Equipment Needed For Serving Tomato Cocktails?
To create and serve unique tomato vegetable juice cocktails, you will need a set of commercial kitchen or bar equipment and utensils. You will need various types of commercial ice makers, commercial refrigeration equipment, bar utensils, and essential serving equipment for your restaurant, bar, pub, and club. Cocktails are served in designer glasses; aesthetically pleasing and modern glasses can make your drink look spectacular when served. A guide to cocktail glasses is an ideal reference for purchasing the right type of glassware needed for your bar or pub.