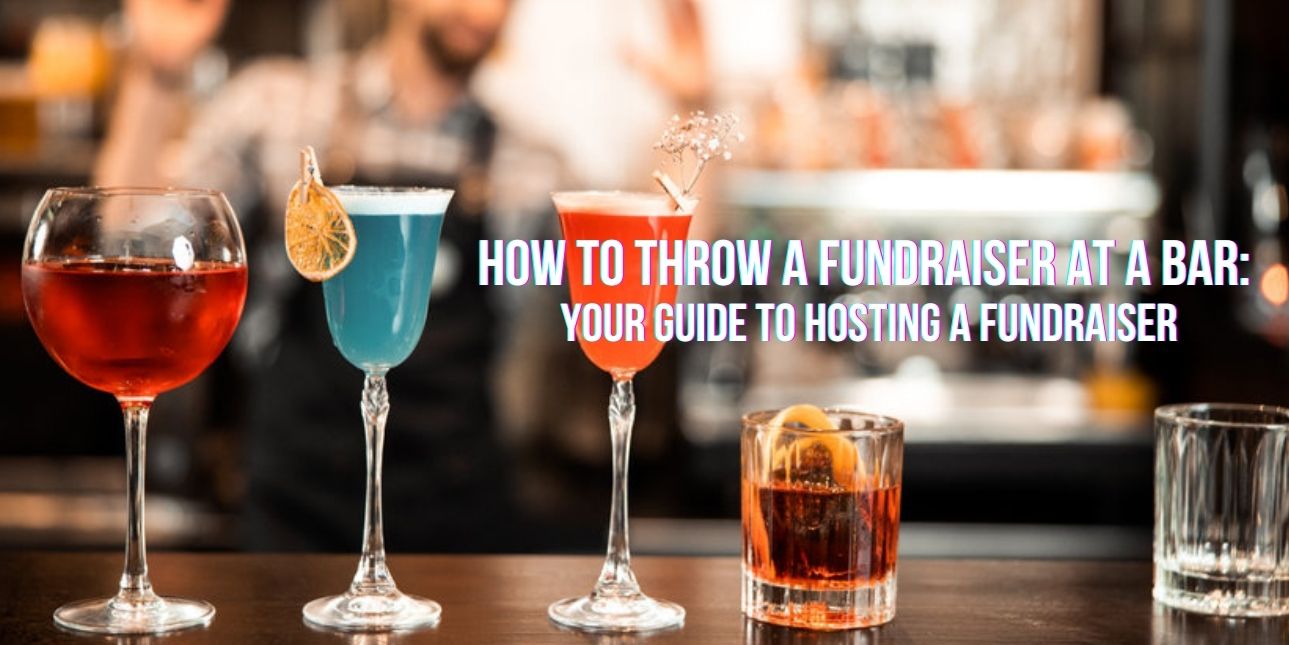 Local groups, individuals, businesses, and non-governmental organizations are known to host fundraisers to collect resources for their causes. Commercial food businesses are a popular choice for hosting fundraisers as they blend together both charity and enjoyment. It provides individuals and businesses, including your own, to give back to the community, and also allows you to build a potential pool of customers from markets you might not have tapped into. Negotiating with potential customers and designating your establishment as a fundraiser bar for their cause can help you reap several benefits in the long run.
Before accepting such contracts, you need to understand how to throw a fundraiser at a bar so that you can provide the best experience to all of your patrons. We list several bar fundraiser ideas that can help you not only offer service to the community but also make the event a profitable venture for your establishment. Read on to know more about how to host a fundraiser at your bar.
Why You Should Know How to Host a Fundraiser
As a business owner, it's important to know how to set up your bar and restaurant for a fundraiser. Apart from making arrangements for specialty items to be served, it's also important to account for the time and marketing required to make the event successful - an essential part of successful bar & restaurant fundraising nights. Despite the effort, hosting a fundraiser also entails several benefits for you as a commercial food business operator, some of them include:
Helps you expand your customer pool:

A bar or restaurant fundraising night can be a great way for you to expand your client base by attracting new customers. It allows you to market and advertise your business to individuals that have never been to your commercial food business before. In case you choose to organize the fundraiser on usually slow nights, it can help you make more profits for the week. In addition to these benefits, fundraiser nights at restaurants & bars provide businesses with an opportunity to strike a rapport with new customers, helping you convert them into regular patrons.

Short & Long-term Benefits:

Setting up a fundraiser bar section in your establishment and hosting an event brings a considerable number of guests to your establishment that increases both your short-term profits and engagement. Even if you donate a portion of the sales revenue on the night to the cause, the large number of sales will make up for the costs and still keep things profitable. On the other hand, by helping out the community, your establishment gains positive engagement with new customers.

Improved Community Visibility:

Engaging with the community can help your business gain a lot of traction. It also establishes your business' name and brand profile. Understanding how to throw a fundraiser at a bar can also enable you to build more relationships with other local businesses, organizations, community groups, and local sports teams. This can go a long way in building customer loyalty in your community.
Setting Up Fundraiser Nights at Restaurants & Bars
Here's how you can set up a fundraising event using these bar fundraiser ideas:
Make Sure your Donations are Financially Viable



It's important to ensure the fundraiser you host at your establishment is financially prudent for the establishment. While fundraiser nights at restaurants and bars are quite profitable, it's important to negotiate the amount of revenue you will be donating to the cause with the organizers of the event.

One of the simplest ways to determine how much money you will be donating to the event is by designating a certain percentage of the night's sales towards the cause. Anywhere between 10 and 25% of the total revenue generated during the event can be pledged towards the fundraiser night to make things simple.

You can offer regular items available on your menu when you decide to go with this plan. Conversely, you can create a separate menu just for the fundraiser bar section, and donate the proceeds generated from the sales of those items to the cause instead. This will require you and your staff to prepare dishes and drinks that represent the event and the cause. Drinks are often more profitable, as customers will order more drinks when compared to appetizers and main dishes. This allows you to donate more of the proceeds as well.

Lastly, you can also have platters of different numbers of options and variety available to guests. This allows for guests with budgetary constraints to donate to the cause more freely, and also promote the event better.
Plan Ahead



It's important to plan before you go about setting up your bar & restaurant fundraising night. While adhering to your client's requests is one aspect of the process, also be sure to consider your convenience and organize the event on a day that's not your busiest night. This ensures you have sufficient time to prepare for the bar fundraiser night, and also channels business to one of the nights that are not as busy.

Organizing restaurant nights for fundraisers on a slow evening also helps you avoid missing out on periods that bring in a lot of revenue while maximizing your margins during slow periods. Provide time slots for your patrons so that the event doesn't interfere with your bar's regular operations. It's also important to understand

how to choose bar equipment

, and to be well-versed in specific necessities that customers might ask for.

Learn how to market your products using

essential marketing tips for bar sales

and their improvement. Investing in specialty and niche bar frameworks like a

whiskey & bourbon bar

setup can also pay off in dividends when it comes to organizing events like fundraisers. Lastly, make sure your bar is fully equipped with the best

ice makers

and other bar essentials before you open your doors to customers on the restaurant fundraising night.
Market the Fundraiser Night
Alongside planning, it's equally important to market the fundraiser event at your establishment. You can use your existing social media accounts to promote the event consistently until the event night. Social media allows people to share your posts and announcements, allowing a large audience to take notice very soon. You can also use traditional media such as print to advertise the upcoming fundraiser. Though its reach might be lesser when compared to its electronic counterparts, it can still get to a fairly large audience. You can also offer incentives to the patrons that are expected to visit the restaurant on the fundraising night at your business. Coupons and discounts not only promote repeat business but also give your customers a reason to spread the word and bring more people to your establishment. Making the fundraiser night a ticketed event also promotes more attendance due to the urgency it creates and the aura of exclusivity it brings with it. Using these bar fundraiser ideas can go a long way when you're hosting a fundraiser night at your bar or restaurant.
With an understanding of how to host a fundraiser, you can market to local groups and community organizations offering your establishment as the venue for these events. While business benefits are plenty, supporting causes in the local community enables you to establish yourself as a responsible and ethical business that is sure to make a mark on people's minds.