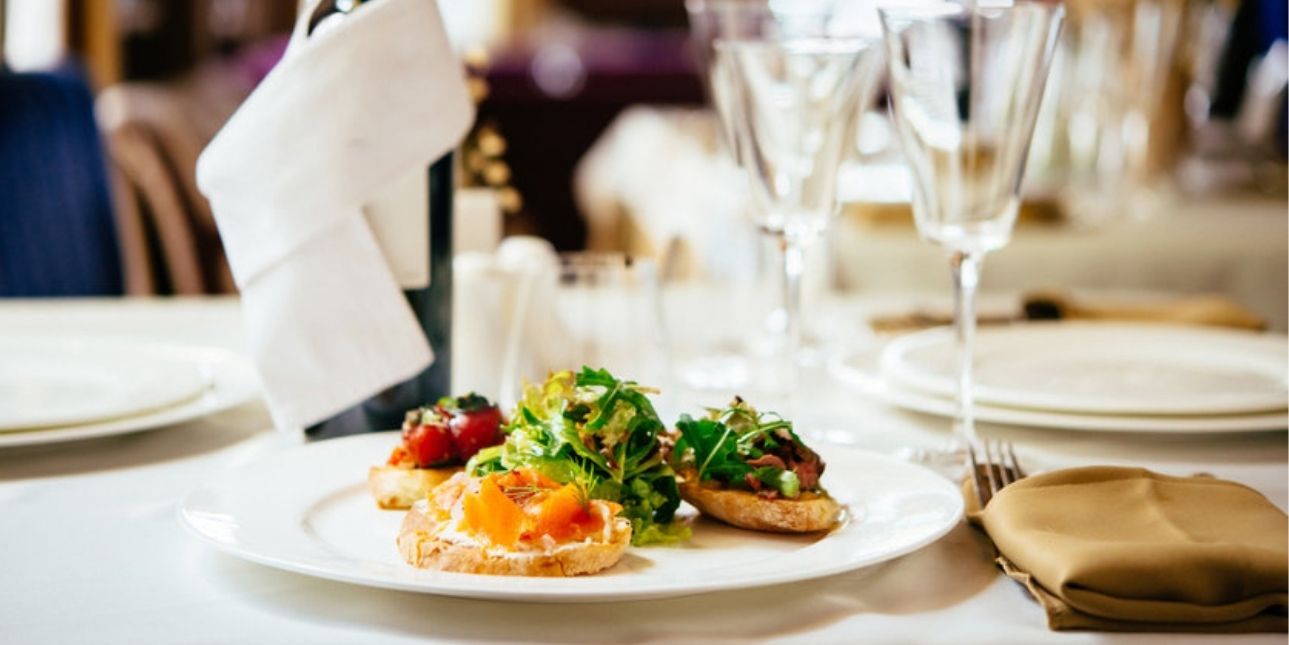 Everyone loves a delicious cocktail with their meal. A perfect combination of food and drink can enrich the taste buds. It can be difficult to get to the right combination of flavors that will enhance your dining experience. Perfect cocktail and food pairings are essential for both casual and formal events.

A Guide To Food and Drink Pairings
Finding the perfect food and alcohol pairing can be time-consuming. Here we have listed some essential pointers for creating ideal food and drink combinations effortlessly:
Cocktails That Complement A Dish: Any cocktail that complements a meal needs to match the dish's flavors or contrast the flavors. You can opt for a shared ingredient for matching cocktails and food pairings. In Bloody Mary and shrimp cocktail, tomato is a key ingredient. For more contrast, you can choose sweet cocktails for spicy dishes and bitter cocktails for sweet dishes.
Also, heavier cocktails are perfect for lighter meals, and for heavier dishes, you can go with lighter drinks. For example, you can pair a steak with a fruity cocktail and a light salad with a stronger cocktail.
Enhance The Flavor: Flavors drive the food and cocktail pairings. The right blend of flavors can enhance the overall dining experience. The pairing of a drink and dish should be balanced and not overpowering. For example, chocolate brownies with chocolate cocktails can get overpowering. In comparison, grilled chicken with classic Margarita can provide an enriching experience.
Being True To The Origins: Food and alcohol combinations originating from the same area can be paired together. Japanese sake cocktails are perfect for Japanese dishes like sushi. Similarly, tacos and Mexican Palomas complement each other.
Improvise and Experiment: Professional bartenders and cocktail bar owners face difficulty finding the perfect food and cocktail pairing. Many prefer to experiment and improvise with popular combinations. Before finalizing it, you can test new cocktail and food pairings on a smaller crowd.

The Best Cocktail and Food Pairings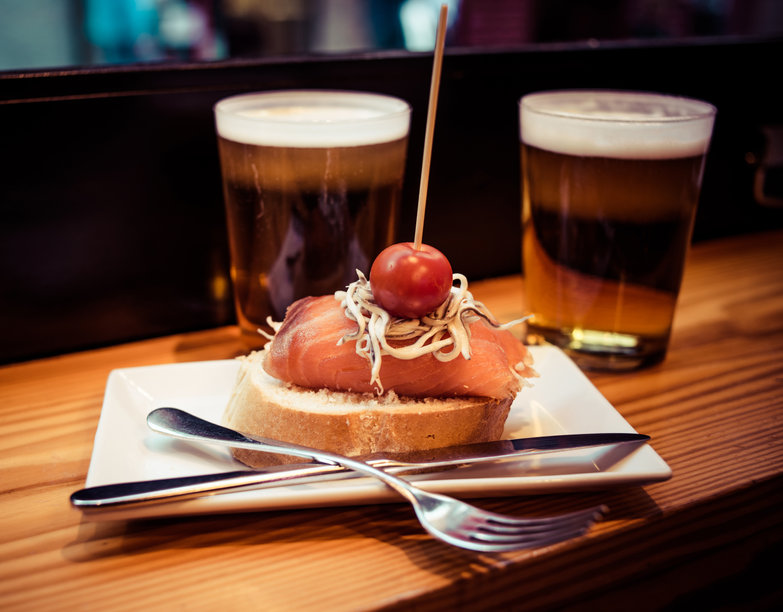 Here is a list of the best cocktail and food pairings that are perfect for any occasion:
Nachos And Margarita: Most people prefer nachos with a classic cocktail. Cheese nachos with classic Margaritas are among the most popular food and cocktail pairings worldwide. Classic Margaritas are made from water, sugar, lime juice, lemon juice, and tequila. The freshness of Margaritas blends perfectly with the tanginess of flavored nachos.
Whiskey Sour And Salads: Whiskey lovers love simple salads as accompaniments because of their anti-hangover benefits. Greek salad and whiskey sour can be a perfect food and alcohol pairing for all seasons. Whiskey sour is made with spirit, citrus, sugar, and a pinch of salt. You can add egg white to whiskey sour to thicken the blend.
Beef Jerky and Beer Cocktails: Beer cocktails complement the richness and texture of beef jerky. You can serve beer cocktails in beer glasses and cocktail glasses, depending on your choice.
Beer cocktails are made from rye whiskey, apple juice, lime juice, lemon juice, and a beer of your choice. You will need high-quality cocktail shakers to get the perfect mix. A beer cocktail is a light, flavorful, smooth, and thirst-quenching drink, which can be consumed any time of the day.
Gin Gimlet And Sushi: Gin gimlet and sushi is a perfect cocktail food pairing gaining popularity among millennials. A classic gin gimlet is made with gin, ice, lime juice, syrup, and sugar. All ingredients are blended in a cocktail shaker with a long cocktail spoon. Additionally, many like the way the tanginess of lime juice and gin balances a salty sushi meal.
Shrimp Cocktail and Bloody Mary: Bloody Mary and shrimp cocktail can be considered one of the best cocktail pairings of all time. Shrimp cocktail and Bloody Mary are from the same flavor palette, where tomato reigns the taste buds. You can alternate between Bloody Mary, shrimp cocktail, and club soda for more variation.
Oysters and Martini: Oysters and martinis are crowd favorites. You can create some flavorful martinis with gin, dry vermouth, and orange bitters. You can pair large oysters with lighter martinis. Smaller delicate oysters go perfectly with stronger martinis.
Lobster and Old Fashioned: When pairing cocktails with food, Old Fashioned is one of the best cocktails accompanying any dish. An Old Fashioned is a blend of bourbon, bitters, sugar, and soda. We can trace back its origins to the early-1800s. Old Fashioned cocktail tastes like sweetened whiskey, which is balanced with bitters and spices. Many traditional cocktail bars offer lobster brisque with an Old Fashioned. The subtle, sweet, and herb-rich tone of the soup is balanced with slightly bitter whiskey. Additionally, an Old Fashioned cocktail complements the creamy texture of the soup.
Spicy Paloma And Tacos: If you are looking for an all-Mexican cocktail food pairing, then spicy Paloma and tacos perfectly fit the bill. Spicy Paloma blends perfectly well with tacos, fresh jalapenos, and tomatoes. You can make the perfect Mexican Paloma with tequila, grapefruit soda, salt, lime, and Jalapeno syrup. The simple jalapeno syrup provides a spicy kick.
Margaritas And Grilled Dishes: Margaritas and grilled chicken pairing offer sweet and salty flavors that complement each other. The sweet notes of Margaritas can balance the saltiness and spiciness of grilled chicken. You can also pair grilled steak, fish, pork, and prawns with Margaritas.
Steak And Sherry Cobbler: There are many cocktails that can be paired with steak. Some people prefer a lighter drink with steak. Sherry cobblers are lighter than regular cocktails, and it is a perfect palate-cleansing cocktail. The citrusy flavor of sherry cobbler complements the heaviness of steak. Sherry cobblers are made with amontillado, simple syrup, and orange slices. You can use lemon slices, mint, and seasonal berries for garnishing.
Sazerac and Cheese: Arguably the world's first official cocktail, Sazerac is hugely popular with vintage cocktail lovers. A classic Sazerac can be paired with cheese, which complements the drink. You can pair aged hard cheese with strong Sazerac cocktails. Sazerac cocktail consists of absinthe, rye whiskey, bitters, and sugar.
Kentucky 75 and Fried Food: Kentucky 75 is a champagne-based cocktail that is inspired by French 75 cocktails. Kentucky 75 is a blend of bourbon, lemon juice, bitters, simple syrup, and chilled champagne. You can pair it with fries and any other fried food. The citrusy cocktail elevates the flavor of fried foods. You can serve Kentucky 75 with regular french fries, cheese balls, onion rings, and meatballs.
Highball and Classic Chili Bowl: Highball and classic chili bowl is a unique cocktail and food pairing. The bubbly highball increases the dish's saltiness, which makes the pairing more flavorful. Highball cocktails are made from various types of alcohol, fruit juice, and soda. Highball cocktails are served with ice in tall highball glasses. For serving multiple highball cocktails, you will need huge quantities of ice. You can purchase ice maker machines for an endless supply of ice.
There is a science behind perfect cocktail and food pairings, but it is not that complicated. There are endless flavor choices for finding the right cocktail to complement a dish. You can experiment with various cocktails and food combinations before choosing the perfect combo that will suit your taste palette. You can try different spirits, spices, and cuisines till you find the right food and alcohol pairing.