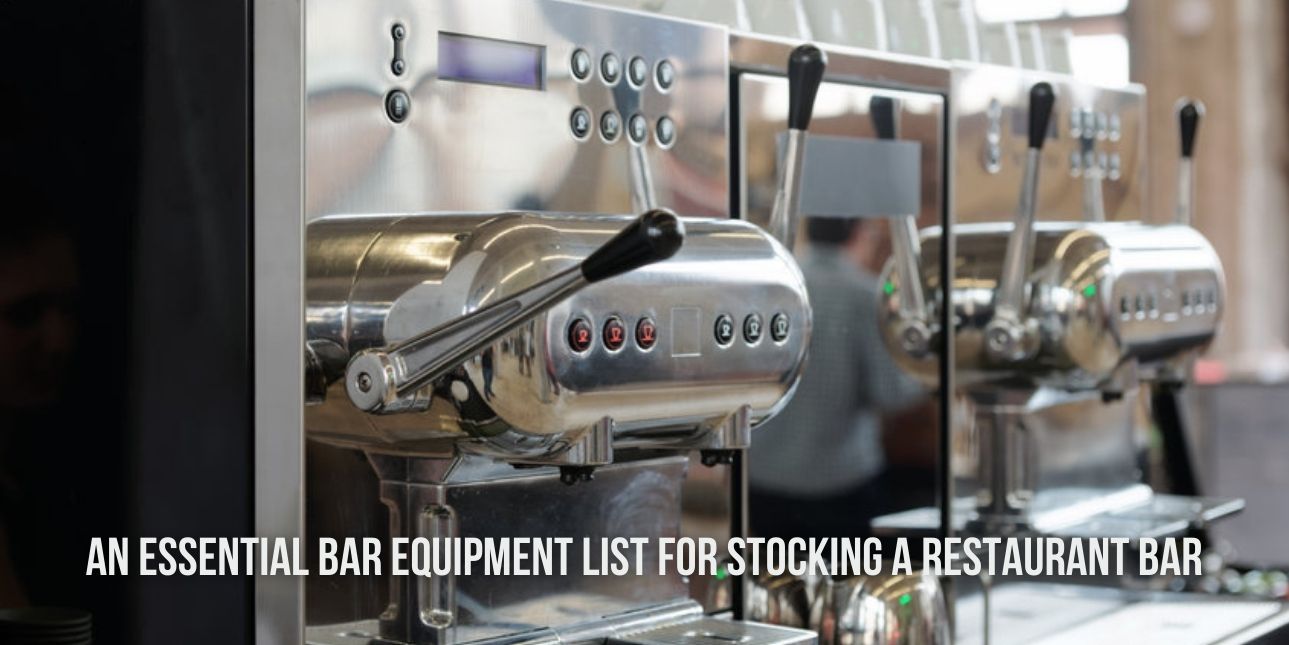 Running a bar is not merely about serving drinks and cocktails, it also involves marketing an entire experience to your customers. To ensure you satisfy customers with your services, your bar requires several basic bar supplies. This includes not only commercial bar equipment but also bar accessories and bartender must-haves that can transform the way you serve drinks to your patrons. When stocking a bar, it's also important to know the various alcoholic and non-alcoholic components you require so you can offer everything listed on your bar menu.
Apart from the essential bar accessories list, restaurant and bar owners can also include commercial kitchen equipment to offer food items on the menu like appetizers to hungry customers. Going beyond just the drinks, every bar owner aims to offer a memorable evening to their guests, ensuring they return for repeat business. Read on to know more about the essential bar equipment list and what you really need to operate a full-service bar.
Stocking a Restaurant Bar
Keeping track of inventory is one of the most important things a business owner can do in the commercial kitchen industry. Whether you're new to the field or have been operating your establishment for several years, monitoring your equipment and essential supplies is imperative. Your commercial bar equipment list will depend on your bar's menu and its theme, helping you further your endeavor in building a niche for your business, ultimately helping you build a brand. Apart from specialty needs, every bar requires a number of basic bar supplies that enables the operation to function without hiccups. Analyze your menu and your establishment's concept to evaluate the bar equipment list in the further sections to build a procurement plan suited to your operation.
Bar Equipment Checklist
Here's a list of commercial bar and kitchen equipment you will need:
A bar requires robust refrigerators to ensure your offerings are chilled and refreshing. Apart from commercial refrigerators such as reach-in and walk-in refrigerators, a bar will also require bottle coolers, back bar coolers, wine chillers, and glass chillers to provide pristine service to its customers while making space for large-scale refrigerated liquor storage.
Ice is the backbone of the bar industry. Every bar requires a vast and continuous supply of ice to function seamlessly. Without ice, drinks will not be as refreshing and will not taste as good. Ice adds an element of palatability to most drinks and cocktails and allows the drinker to enjoy the offering by taking relaxed sips from the chilled glass.
Quality underbar equipment is an important part of every bartender's equipment list since it allows your staff to speed up service and manage the bar more efficiently. Underbar cocktail stations, speed rails, underbar sinks, underbar ice bins, and modular add-ons are some of the essentials to revolutionize the way your bar operates.
Allowing you bartenders to whip up specialty cocktails and icy drinks, blenders are the handiest pieces of machinery behind a bar. From Pina Coladas to frozen daiquiris, a blender is useful when preparing a vast array of drinks.
While commercial beverage equipment might seem like they belong on a cafe's procurement list, the popularity of cocktails like the espresso martini, white Russian, and Irish coffee has steadily been on the rise. Including coffee makers and decanters on your bar equipment list can help you go a long way in tapping into this trend.
Juicers allow your bartenders to extract fresh juice from an array of fruits and vegetables. While fruit juices are essential components of several cocktails, juicers can help you add more non-alcoholic options to your bar's menu, allowing you to attract even teetotalers to your counters.
Bar Accessories List
Here are some of the bar accessories that will help your bar staff serve customers quickly without a hassle:
Jiggers are a part of several bartender must-have lists as they help your staff measure the amount of liquor they're pouring. These little metal measuring cups make sure you're neither under- nor overserving your patrons.
Measured pourers help rookie bartenders serve accurate volumes of liquor when preparing a cocktail or a drink. On the other hand, standard pourers are some of the most important tools for experienced bartenders and help them save time while serving customers.
Shakers allow your bar staff to mix several different alcoholic and non-alcoholic elements to prepare an evenly mixed and flavored cocktail. They also provide a medium to chill the drink using ice.
Bars run through several bottles and cans in a single day. A bottle and can opener is a part of every basic bar supplies list. Ensure every bartender carries a bottle opener with them during operational hours.
Strainers enable bartenders to keep the ice and other condiments out of the final drink when making the pour. Consider procuring several strainers to allow seamless and smooth operations at the bar.
Muddlers & Muddling Supplies
Muddlers allow the user to squeeze out the fresh essence and flavor from several spices and condiments to flavor cocktails. Both wooden and metal muddlers are effective behind the bar and can be handy in cocktail preparation.
These tools are useful in preparing cocktails and other drinks as they come with a long stalk, enabling the spoon to reach the bottom of the glass and create a vortex to mix the ingredients. Cocktail spoons are essential requirements and must be included in every establishment's bar items list.
Another important component in the basic bar supplies & accessories list is a cutting board. They're useful in chopping up fruits and for preparing chopped condiments for cocktails. Often made of plastic or wood, they're vital auxiliary elements in the bar.
Bars can become slippery messes very quickly. To prevent workplace injury and to avoid losses, placing bar mats over the counters and on the floors will allow you to build a safe environment for your staff. On the other hand, coasters allow you to prevent stains while serving your customers.
Glasses & Mugs
Glasses & mugs are some of the most important components in a bar. They help you make a good impression on your customers and good glasses add aesthetic value to your offerings. Here's a list of glasses you will require for your bar:
Rocks Glass:

These glasses are used to serve neat spirits and rocks pours.

Beer Steins/Mugs:

Beer steins are ideal to serve beer and are easy to handle.

Highball glass:

These glasses are among the most essential cocktail glasses a bar needs to have and can be used to serve a variety of cocktails.

Martini glass:

The V-shaped bowl promotes aesthetic appeal and is easy to handle with a stalk for support.

Coupe glass:

Coupe glasses are ideal for bright and colored cocktails.

Margarita glass:

The unique shape of this glass makes it an ideal choice for salted rims.

Copper mugs:

Copper mugs are versatile serving options for certain cocktails and non-alcoholic beverages.

Zombie glass:

This straight glass is capable of holding a great amount of ice and drinks, and is a great choice for several cocktails.

Hurricane glass:

Ideal for tropical drinks, this tulip-shaped glass is a great aesthetic addition to your glass collection.
Now that you have an essential bar equipment list on your hands, it's time to begin analyzing what suits your operation and your menu's theme. Be sure to invest time in procurement and purchase only the most trusted bar equipment for your operation.