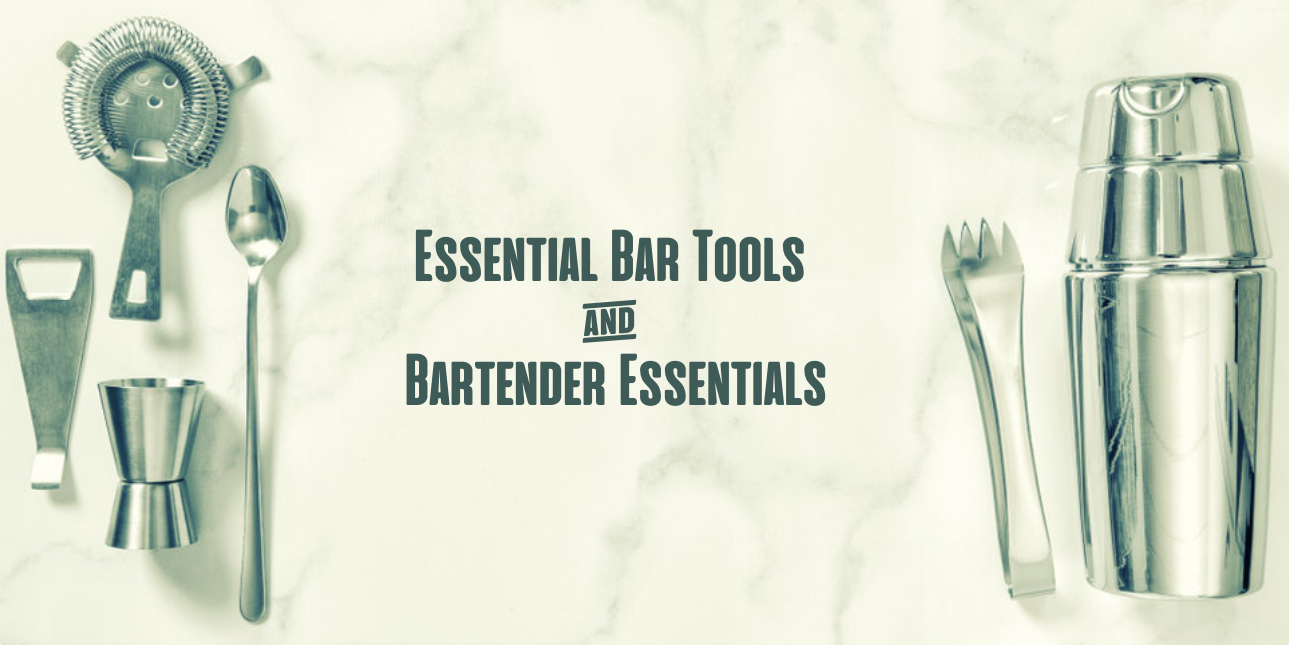 Mixology requires a blend of both skill and quality equipment. If you're looking to build a top-notch bar that's a hit among your customers, you will need both a skilled bartender and the best bartending supplies you can find. All the essential bar tools are constructed around the principles of convenience, precision, and aesthetics. Bartending is a profession that serves eager & thirsty customers and also serves as a form of entertainment. It's important to bear in mind that elegance is an essential factor when building a bar and outfitting it with essential bar equipment.
While the basics will help your bartenders do just about enough behind the counter, there also exist specialty and luxury bar tools that add an extra dimension to your establishment's services. Read on as we take you through essential bar equipment, bartender tools' names, and additional accessories so you can go about building a bar that turns into a customer favorite in no time.
Essential Bartending Tools Explained
Here are some of the bartender essentials that can help your mixologists with a variety of activities behind the counter:
Bottle Openers & Bar Blades
Every bar requires a bottle opener. Capped beverages and bottled beers are always in demand, and your bartenders will be expected to open several bottles on an average workday. You can either provide a handheld or a wall-mounted bottle opener depending on your workers' convenience. Bar blades on the other hand help open bottles, and can also be used to perform tricks and pull out bottles from the ice using the neck.
Bar mats are an important bartending tool that helps your workers avoid spillage over the counter. These mats are made of durable, elegant, and tough rubber that can withstand the day-to-day at a bar. They hold back the spills and can be drained into the sink whenever required. These mats also provide stability to the glasses and bottles placed on them due to added grip.
Lighters are useful when you have to light-up shooters or when you need to flame ingredients such as orange zest. You can also use lighters to burn wood chips for cocktail smokers so you can add a great smoky flavor to some drinks.

Quality corkscrews are one of the most important additions to the list of essential bar equipment. They can help your bartenders open up expensive wine or champagne bottles without fraying or damaging the cork. Modern corkscrews are made of high-grade stainless steel and also come with an easy-grip handle.
Cocktail-making Bar Tools Explained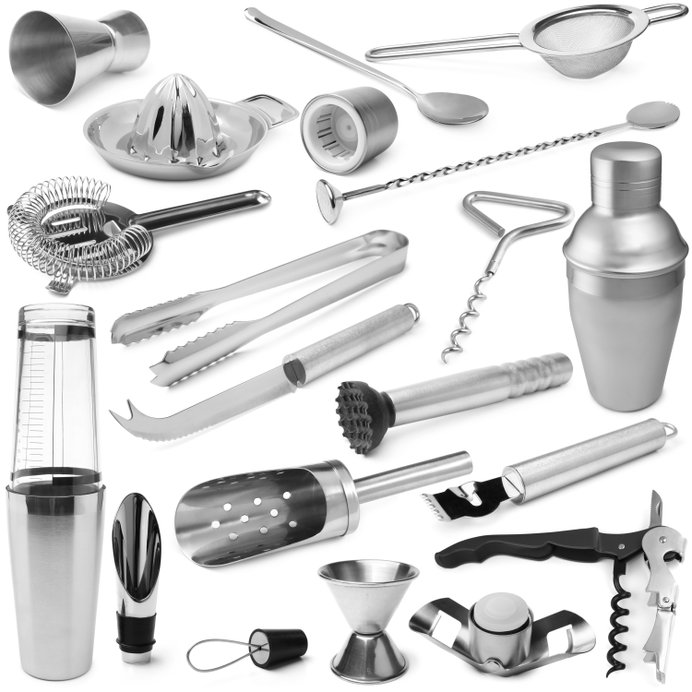 Now that we've discussed the bare necessities, it's important to understand cocktail-making equipment to serve delicious and flavorful concoctions to your guests at your bar. Here are some of the most essential bar tools to prepare just about any cocktail:
Cocktail shakers are one of the most important pieces of bartending equipment to offer cocktails to your patrons. Most modern shakers are made of stainless steel and usually come with two parts - a larger glass and a smaller glass. When jammed shut, they create a tight seal that prevents the drinks and condiments from leaking out. The shakers help your mixologists create a uniformly blended and smooth product when the spirits, syrups, juices, spices, and ice are mixed and shook together - a quick & ideal solution to cocktail preparation.
Hawthorne Strainers & Tea Strainers
Hawthorne strainers are the perfect accessory to your cocktail shaker as they help you keep the ice, condiments, and other sediments out of the cocktail. They also prevent seeds, fruit pulp, and fruit fibers from getting into the final drink. Since Hawthorne strainers are mainly used to keep larger sediments out of the drink, you will also require fine tea strainers to produce a finely filtered cocktail. Tea strainers remove the fine pulp, fibers, seeds, and small ice shavings from entering the final product.
No bartender essentials list is complete without a jigger. Jiggers are small measuring cups that help your bartenders pour the exact amount of liquor to your patrons. These tools help prevent both - over-serving and under-serving, ensuring your customers are satisfied while avoiding wastage and losses for your bar. Stainless steel jiggers are elegant, accurate, and a cost-effective way to achieve accurate pours.
Pourers are ingenious devices that help you prevent operational losses. These devices enable accurate free pouring and also help your bartenders save time while they're at it. Pourers are a great way to achieve accurately poured shots and mixes when you have a large crowd to serve.
Bar and cocktail spoons are great tools for mixing spirits to create a balanced taste. They can be used to measure small quantities of liquid and syrup for the cocktail. The spoons are also handy when you want to spoon and scoop condiments & additives such as sugar. Long, spiral, and flat-ended spoons help mixologists layer drinks and aid with quick stirring, making them a highly recommended bar tool.
Fruit presses are one of the cheapest solutions when you're looking for tools to help you squeeze the juice out of fruits. These bar tools are easy to use, lightweight, and extremely handy. They're also quick and just the right size when you need to squeeze out a small amount of juice for a drink.
Muddlers are great for crushing condiments, fruits, and ice. They're available in varieties with both flat and serrated bottoms. While the former is better for crushing ice and sugar into the drink, the latter is more efficient for squeezing out the aromatics from spices, and in bringing out a better quantity of pulp & juice from a fruit. Wooden muddlers are great options for bartenders looking for a simple solution to crushing ingredients for their cocktails.
Cutting boards are ideal tools for you to prepare and slice condiments, garnishes, and citrus zest. Most cutting boards are slip-proof, hygienic, and provide a safe surface for all the chopping activity behind the bar counter. They also help you protect the counter surface and prevent scratches.
Ice buckets allow your bartenders to keep some amount of ice handy while working at the counter. They store a manageable amount of ice and are easily accessible when the ice machine is located at the opposite end of the bar. Ice scoops, on the other hand, help your staff collect and hygienically deposit ice. Both ice buckets and scoops allow your staff to handle ice safely and conveniently - making them an important part of essential bartending tools.
These tools allow mixologists to avoid spillage and waste when pouring drinks out of a bottle. Funnels are especially useful when making cocktails since the various ingredients involved come in bottles of different sizes. They're also handy when you're creating drinks in batches.
These tools are some of the best when it comes to preparing lemon and orange zest for cocktails like martinis. They're also useful when bartenders have to grate chocolate and spices like nutmeg. They're cheap yet effective tools behind the counter.
With this list of essential bar tools and equipment, you're all set for stocking up your bar with the very best. Make sure you also have large equipment like commercial ice machines, glass washers, and back bar coolers to help you run a streamlined operation. By equipping your bartenders with all the equipment they need, you can be sure of running a profitable operation that is capable of serving all of its customers' needs in a timely and elegant manner.