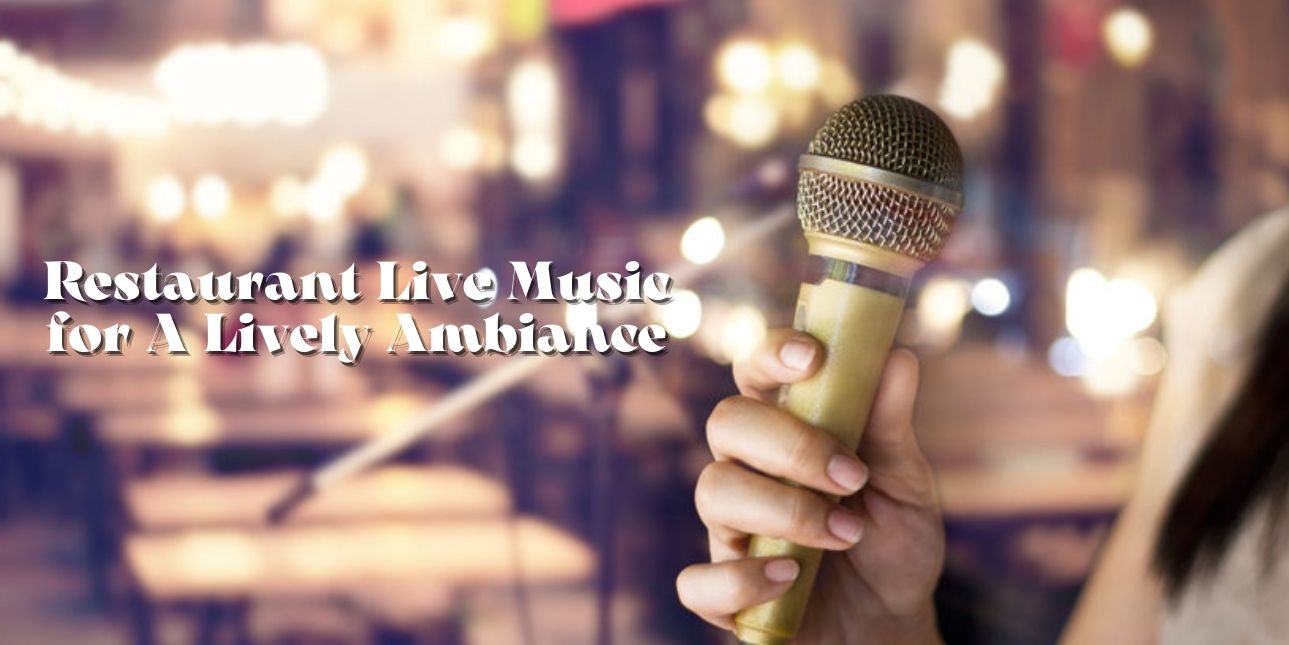 A restaurant with live entertainment is a great place for patrons that are looking for an experience rather than just a meal. As a business owner, you can organize events and offer restaurant live music at your establishment to promote footfall, and customer satisfaction, and to market your business to a broader demographic. Whether you run a full-service restaurant, a cozy little cafe, or a bustling bar, live music can enhance the atmosphere in your foodservice business and offer an incentive to customers to stay for longer. This directly translates to higher sales and revenue.
In an age where people look for more active and engaging forms of entertainment, merely good playlists won't cut it. Music has a soothing effect on people that helps them relax and brings out the best in a moment. By setting up a live band bar or by providing live music in your restaurant, you can elevate customer experience and subsequently the impression of your establishment. We discuss various aspects of managing bars & restaurants with live music, how to book bands for your business, and more in the upcoming sections.
Why Offer Live Entertainment at Restaurants?
Booking a band for an event at your restaurant and organizing music for your guests has several advantages. Music enables you to set the mood in your front house space, making customers feel more comfortable and lively. Live musicians performing are active and direct forms of entertainment that encourage customers to stay for longer. More time spent at your establishment directly translates to more food and drinks bought. Live music especially improves drink sales as it enhances the experience of your patrons. Apart from the higher profit you can generate every night, live entertainment restaurants are also frequented by the bands' fanbase, allowing you to market to customer pools you hadn't tapped into previously. The vibrant atmosphere can also attract passersby that might stop for a few drinks and appetizers. By investing in improving the atmosphere of your restaurant by using live music performances, you also market a complete experience to each of your customers, making their meal at your restaurant memorable. This promotes word-of-mouth marketing and helps you set the standard for potential customers that might visit your establishment.
What You Should Know Before Booking a Band for an Event
There are a number of points you need to consider before you set up a live band bar in your establishment. A number of factors determine whether you find the right band or not. Choosing a band that does not play good music can repel customers from your establishment instead of attracting them. Here's what you should know to set your bar up for a band:
Space:

Having sufficient floor space to host musicians at your restaurant or bar is the first evaluation you need to make before you set out to contact a band. Musicians, their instruments, audio equipment, and lighting can take up a considerable amount of space, so it's important to make arrangements for the same before you plan your event with live music in the restaurant. Also, be sure to account for larger crowds that might attend the event at your establishment.

Licenses:

Administrations offer licenses to businesses that are allowed to play live music at their venue. Don't forget to apply for a license in case you don't have one for your establishment already. Organizing live music at your restaurant without one can lead to liabilities like fines and penalties.

Noise regulations:

Go over the noise regulations and ordinances in your area before you begin hosting restaurant live music. In case your neighbors and other businesses have issues with loud music playing at your establishment, it might get difficult for you to organize these events.

Insurance:

Having a broad enough insurance cover that encompasses musicians and other liabilities associated with live events becomes important when you're planning on having live music at your restaurant.

Budget:

Bands can cost you anywhere between 1000 to 5000 USD per set, so make sure you have the budget to host these bands at your restaurant and pay their fee for their performances before setting up a gig for the night.

Equipment:

While most bands are worried about how to get a gig at a bar, your biggest concern is providing suitable equipment. Restaurant and bar audio systems are not often built to deal with the nuances of live music, so be sure to confirm with the band you're hosting about the equipment they need, and whether they'll bring it along. Investing in high-quality sound equipment requires a good amount of investment, however, relying on the bands for equipment can cost you extra money per gig. So be sure to evaluate your costs vs. benefits when it comes to sound equipment.

Determine the Theme:

Setting a theme for the kind of music to be played at your restaurant is the most important step in planning for restaurant live music. Understand your customers and the kind of music they prefer. In case your customer base is predominantly a young, college-going crowd, indie, acoustic & alternative music would be the best bet. On the other hand, rock & roll would be the right choice for a niche bar. For older patrons, it's often best to hire classical and classic rock groups.
How to Book a Band for Restaurant Live Music Gigs
After taking into consideration all the variables involved in setting up a live entertainment restaurant, you can book a band that fits your requirements.
Conduct thorough research before you settle on choosing a prospective band.

Ensure they have a great reputation and are thorough professionals.

Try scouting for bands by visiting other popular venues with live music performances. In case you do not have the time to do this, request family and friends to help with this task.

Browsing through the band's social media accounts and presence is also equally essential.

Contrary to popular belief, having too many bands play at your establishment can confuse your customers and instead hamper foot traffic. Choose one to three bands that have similar performing styles and stick to these musicians to see consistent footfall.

You can also explore local colleges since they often have up-and-coming bands that are looking for places to play and get their name out in the market.
Points to Remember Once You Book a Band
Once you have zeroed in on the band you want to hire, there are a few essential points to bear in mind so you make the best out of your new offering at the restaurant:
Use reasonable cover pricing so that you can increase footfall at your restaurant or bar. Exorbitant cover prices will make prospective customers lose interest.

Invite journalists and online personalities to review the live music and atmosphere at your establishment.

Ensure you draw up a clear contract with the band before they begin performing for your restaurant.

Make sure all the equipment is working properly before the band begins playing.

Maintain an open channel of communication with the band and its manager to avoid any discrepancies and issues with the live events.

Use social media and print media to market & promote the band. This will get the word out about your live entertainment restaurant and will help you market the band as well as your establishment.
Whether it's cocktail night, a special occasion, or just a weekly gig, having a talented band to help you make a restaurant with live entertainment will go a long way in establishing your brand. This will also help your business make an impression in the market as an attractive local hangout. Be sure to bear in mind all the requirements before you go about setting up restaurant live music at your foodservice establishment, and don't forget to equip yourself with the best commercial ice makers to guarantee your live band bar and restaurant are always a preferred location for your patrons.