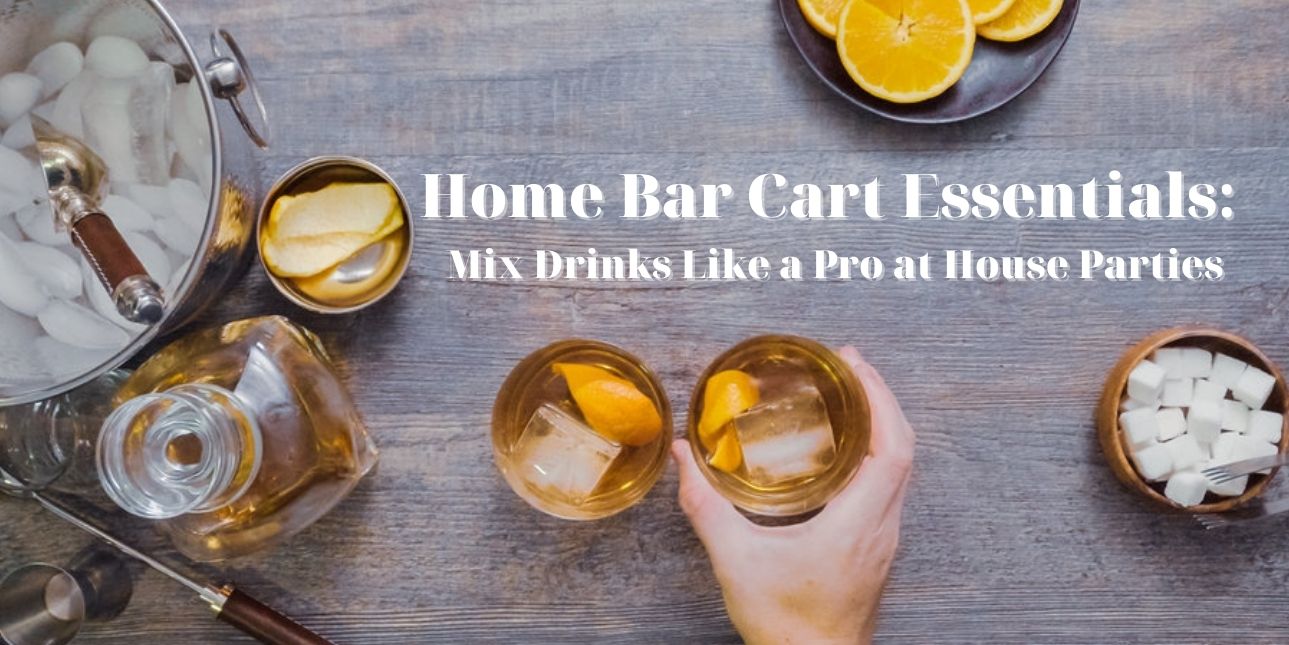 Many prefer house parties over clubbing. If you're looking to host a house party for your close friends and family, you're at the right place.
Thorough planning and research are needed to host a weekend house party and to set up your home bar cart. You can begin by sending out invites, blocking everyone's calendar, asking for preferences, and setting up your place for the house party. Once you have finalized the food and cocktail menu, you can proceed with your purchases for your bar cart.
In this article, we discuss how to set up a home bar cart and how to stock a bar for a house party.
How to Set Up a Home Bar Cart
Building your bar cart products needs passion and attention to detail. You can start by investing in a high-quality home bar cart. Home beverage carts need to be practical, mobile, spacious, and steady. If a bar cart is wobbly, there is a high chance of damaging your valuable bottle of wine or whiskey. Depending on your needs, you can opt for a vintage cart or a modern colorful cart. Modern carts are designed for modern-day home cocktail parties.
Here is a list of the equipment and supplies you will need for your home bar cart:
Cocktail Shakers: You can stock your home bar cart with attractive cocktail shakers. With professional-style cocktail shakers, you can keep your guests interested in your bartending skills. You can choose between stainless steel and metal alloy cocktail shakers. These popular cocktail shakers are used by professional bartenders worldwide. You can also purchase mixing glasses for your home bar cart.
Jiggers And Measurement Tools For Bars: You can use traditional bakery measurement cups for measuring ingredients for your cocktails at home. If you want to emulate professional bartenders, you can opt for various pro-quality jiggers available in the market. You can mix drinks consistently and adequately with pro jiggers and measurement tools.
Strainers: Strainers are ideal for removing excess residues of any ingredient. For example, citrus fruits and natural pomegranate juice may have textures you wish to remove from your drink. You can easily remove the thick elements and seeds from your drinks with strainers. Opt for small and agile straining tools that professional bartenders use.
Condiment Trays: You can purchase condiment trays that professional bartenders use. These multi-compartment condiment trays are ideal for mobile home bar carts. You can store essential ingredients and garnishes like olives, fruits, and herbs in your condiment tray. With these convenient condiment trays, you can blend mojitos and margaritas quickly.
Spoons: Bar spoons have long handles ideal for blending and layering spirits. Bar spoons are essential for your home bar cart. Bar spoons are also known as muddlers. With a set of muddlers, you can muddle soft ingredients effortlessly. They have a flat disk at the edge, which can help you layer your drinks. They are ideal for drinks with muddled fruits or mint leaves.
Glassware: Stocking a bar cart is an art. Seasoned home bartenders are proud of the glassware they own. For your home bar cart, you can collect various glassware-coupe glasses, martini glasses, rocks glasses, or old-fashioned glasses.
Alcohol: Make sure to include a bottle of rum, tequila, gin, bourbon, rye, Irish whiskey, brandy, Scotch, and vodka. You can tailor the type of alcohol according to your budget and preferences. Versatile alcoholic drinks work well with various mixes. For most cocktails, you can pick a bottle of popular gin, vodka, or whiskey that is widely used in bars.
Type Ice and Ice Bucket: Ice is an essential ingredient for most cocktails and beverages. You can make your cocktails more appealing by opting for various types of ice like crescent, full cube, nugget, half-cube, and sphere ice. You will also need a high-quality ice bucket to store your ice for extended periods. Purchase a stainless steel or colorful ice bucket, depending on your requirements.
Cocktail Modifiers: Cocktail modifiers provide additional flavor or kick to a regular cocktail. You can purchase dry vermouth for martinis, sweet vermouth for negronis, and blanc vermouth.
Herbal and Fruity Liqueur: For an additional twist, you can opt for herbal liqueurs like Aperol, Chartreuse, and Campari. You can also purchase fruity liqueur like Grand Marinier or Saint Germain. With these herbal and fruity varieties, you can make hundreds of classic cocktails more flavorful.
Bitters: Bitters are essential for your home bar cart. You can opt for Angostura, Peychaud, or orange bitters. Contrary to their name, bitters provide a ton of flavor instantly.
Accessories: You can make your home bar cart more attractive by adding a small vase for flowers, scented candles, an ice bucket, and books. Adding accessories will make your home bar cart more appealing to your guests.
How to Stock a Bar for a Party
Stocking a bar cart perfect is essential if you plan to host a cocktail party at home. You will need to finalize the details like the date, time, cuisine, theme, set of cocktails, and type of entertainment. You will also need to research the best party ideas for your home party.
Here is a list of things you need to finalize before stocking a bar for a party:
Final Guest List:

Always be clear on the number of invitees. Some guests may bring their friends or family along with them. It's best to be prepared for many unannounced guests. Most well-stocked parties can accommodate 10% to 20% of unannounced guests.




Preferences:

You need to know the drink preferences of all your guests. Some may like tequila over whiskey. You can send out a questionnaire or ask your guests beforehand about their choice of cocktails or beverages.




Drinks per Guest:

Generally, it's safe to assume that your guests will consume two to three cocktails in the first hour. Second hour onwards, guests generally prefer one to two cocktails. Additionally, the consumption of alcohol will depend on their preferences. You can stock up on wine, cocktails, beers, and non-alcoholic beverages.




Mocktails

: Have a set of mocktails that you can serve at your party. Many guests are teetotalers, and some may refrain from drinking. Prepare 2 to 3 mocktails or non-alcoholic drinks to please your guests.




Ingredients:

The number and quantity of the ingredients will purely depend on the cocktails and beverages you plan to serve at your house party. Depending on the cocktail recipes and the number of drinks per guest, estimate the number of wines, beer, whiskey, rum, or vodka needed along with garnishes.




Bar Equipment:

You also need high-quality

bar equipment

to serve your guests efficiently. Choose suitable quality ice dispensers, cocktail shakers, glass rimmers, liquor pourers, and bar towels for your house party.
House parties are the best if they are executed flawlessly. With home cocktail parties, you can hone your bartending skills. Your home bar checklist should include professional quality equipment like bar stock carts, ice and water dispensers, cocktail mixers, bar mats, jiggers, bar spoons, and other essential supplies. You will need specialist equipment like a fruit extractor or a hand blender for some cocktails.
With high-quality home bar carts, you can store and organize all your essential ingredients and equipment. Most bar carts are mobile and can be moved around the room for convenience. You can showcase your professional bartending skills at house cocktail parties and have great conversations with your guests.
So, what are you waiting for? Start investing in the right equipment, ingredients, and carts for your home for the perfect house party.