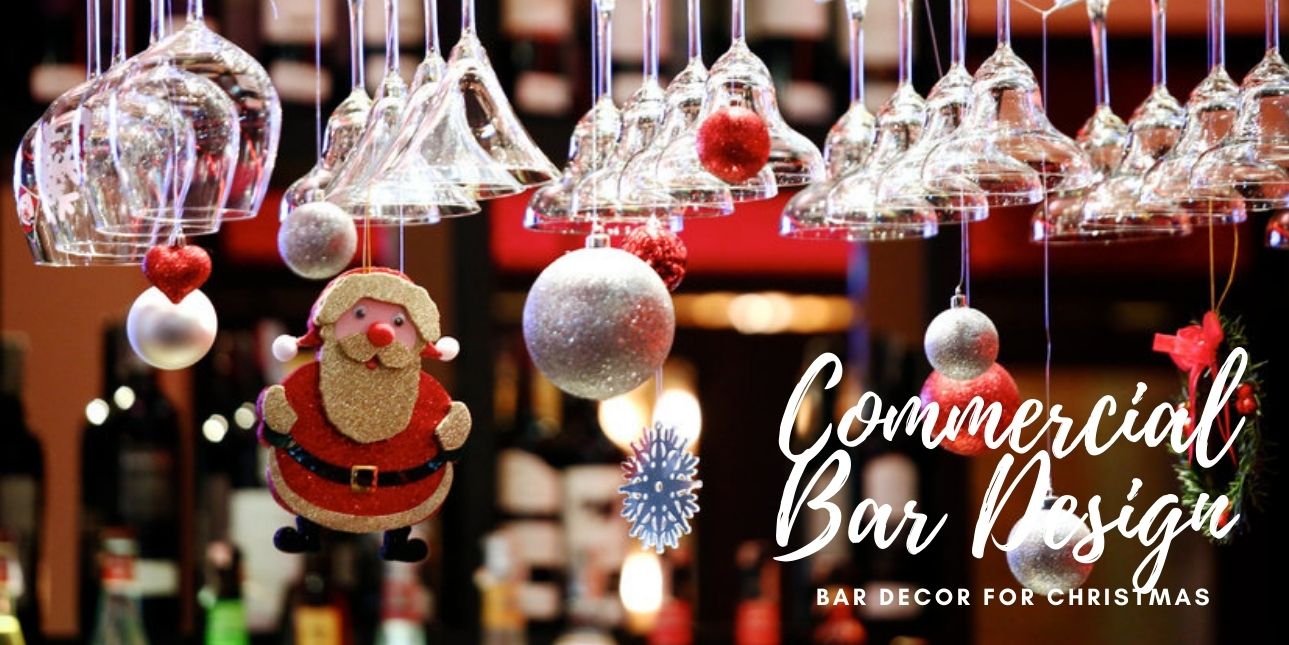 Bars can either be lively spaces brimming with activity, or a sullen corner for the dispirited. The difference between the two is brought about by efficient commercial bar design. If you've been thinking about redesigning your bar or starting your own watering hole, it's time to get creative and learn the basics of how to design a bar. Also, given that the holidays are upon us, now might be the perfect time to decorate your establishment with elements that fit the occasion.
A bar's design and aesthetic are integral to its vibe and ambiance. Customers are bound to be attracted to your establishment provided it has an inviting atmosphere, coupled with lively and unique decor. Most customers experience only the end product of a complex process of commercial bar design, and the process can be quite drawn out and involves balancing both creativity & functionality. Going wrong when designing a bar can be not only off-putting to customers but can also affect the performance of your bartenders. With the holidays right around the corner, you can make the best of the season by embellishing your bar with Christmas-y decorations to help customers feel the jolly vibe every time they visit your bar. Read on as we entail the essentials of how to design a bar and bar decor apt for the season.
The Essentials of Commercial Bar Design
Before getting started on ideas to help you create the next neighborhood hangout, you must define your brand and the customer base you intend on catering to. If you're looking for small commercial bar design ideas, it's important to stick to a theme and an area where you can find ample customer engagement. Similarly, it's best to watch out for spaces in upscale neighborhoods if you're looking to set up a bar that serves craft liquor. Be sure to research the area you're investing in thoroughly before you get down to designing. The moment you have a clear picture of what you intend on offering and the neighborhood you're working in, you're all set to begin creating an attractive and profitable bar. Here's how you can craft a magnetic and enjoyable experience for both your customers and staff by deploying intuitive commercial bar design ideas:
If you intend on understanding how to design a bar, the first step involves understanding the amount of space you have on hand and how you can use it efficiently. Contrary to popular belief, bars do not require extremely large spaces. Effective planning and interior design will help you set up a great bar even in the coziest of spaces. Don't forget to be mindful of the square footage, a rough floor plan, and the blueprint of the space you intend on converting to a bar. Be sure to measure the equipment you intend on procuring and cross-referencing the values with the area of the space available to you. This will enable you to place decor and equipment in a manner that will be both functionally efficient and aesthetically pleasing. If you intend on setting up a kitchen to serve food for your bar's customers, be sure to factor in kitchen space and dedicated cooking equipment as well.
Get Yourself A Unique Theme
One of the most important tenets of commercial bar design is to have a theme. Themes for your bar will create a unique marketing position for your business. Setting up a bar around a theme can also enable your customers to associate your establishment with distinctive features, which can promote word-of-mouth marketing. Don't forget to study your market before you go about deciding on a theme for your establishment. Understand what your customers want and create an original theme that you think will be enticing to your patrons' tastes. Once you've decided on this aspect of commercial bar design, you can proceed to pick up bar decor that will bring your ideas to life.
Lighting is integral to how pleasing your bar looks to customers. Most bars are dimly lit to set the mood, however, this can vary depending on the theme you settle on. Bars serving top-shelf liquor and classy wines tend to be lit brighter than a sports bar. If you're looking to create a space that is appealing to everyone, you should consider lighting options that are neither too bright nor too dull. Finding the middle ground will enable you to create an ambient atmosphere that allows your customers to relax and enjoy their time. Experiment with a variety of lighting options and dimmers. You should also factor in your furniture & bar decor placement, as this affects lighting as well. If you want a simple lighting solution, consider track lighting options that have a switch to adjust luminosity.
Purchase Appropriate Equipment
Buying the right equipment is just as important as having a pretty bar. Purchasing equipment not suited to your establishment can soon turn your bar into a loss-generating venture and bleed precious capital. Try and estimate the number of customers you plan on serving on your busiest days, and select machines that can handle the load. You can also refer to bar equipment lists to help you out along the way. Another important point to remember - install a bar top that is neither too high nor too low. Conventional bar tops are 42 inches high, and the average barstool is about 30 inches tall. Commercial bar design ideas must be centered around both customer and employee comfort to make things work. Also bear in mind the kind of glassware you intend on using at your establishment. Procure glassware that brings out your bar's theme and is well-suited to carry drinks on your bar's drink menu. Bar equipment includes ice machines, wine coolers, back bar refrigerators, glass chillers, commercial sinks, and handwashing stations.
Implement Functional Design
No matter how good your commercial bar design ideas or bar decor might be, it doesn't matter if they don't work. Bars are busy places - with mixologists constantly doing the best they can while preparing drinks for your customers, and also engaging them to make their experiences as interesting as possible. If your bar staff find it difficult to access material or to serve your customers seamlessly, your design doesn't work. Your mixologists must be able to reach every item with minimal movement, an important tenet to bear in mind when understanding how to design a bar. Be sure to incorporate ideas like vertical stacking options so that your bartenders can stand in a single spot while preparing any variety of drinks on the menu. You can also add skid-proof flooring since the floor behind the counter is bound to become a slippery mess on busy nights. This can act as an added safety measure for your employees. To further streamline operations, you can place the point-of-sale system at the front instead of the back. This will allow your bartenders to function without having to move to the opposite end of the bar.
Bar Decor for A Truly Merry Christmas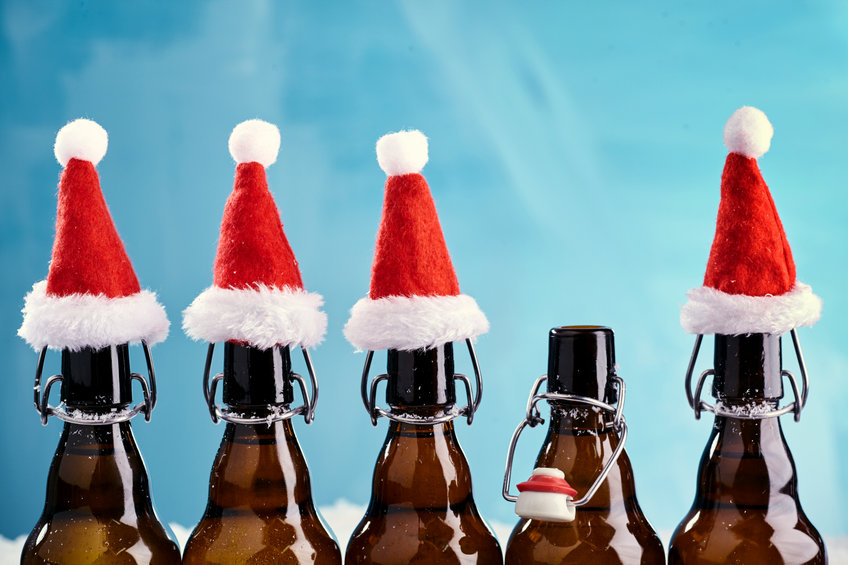 Now that you've understood the essentials of how to design a bar and the rationale behind it all, it's time to decorate your bar for the most cheerful time of the year. Having good bar decor at your bar can drive active customer engagement. This can range from your customers taking pictures and posting them on their social media to word-of-mouth marketing that can help bring you more business. Festive decor can help your customers have an all-around experience of the holidays and make your bar an attraction for increased foot traffic during the season. Since most Americans celebrate Christmas with great zeal, it's just the right time to join the festivities by getting your bar ready for the shoppers and carolers alike. Here's what you need to know about holiday bar decor:
Start with The Doorstep:

If you want prospective partiers to know you're all set for Christmas just as much as they are, nothing speaks better than festive decor right at the entryway. You don't need to go over the top, a simple wreath, a statue of an elf, or Santa Claus to greet guests at the door can go a long way. You can also hang garlands using a red-white, green-red, or red-gold color scheme to make things more attractive.




Try Being Minimalist:

Communicating through subtleties suggesting a particular theme is a trend that has caught on well. It also works in the case of holiday bar decor. You can stick to the classical

Christmas color schemes

when decorating. In fact, using just two contrasting colors will do. Be sure to implement the palette of choice across your establishment to indulge in clever yet apparent messaging while helping your guests celebrate. Including too many colors and themes can end up making your bar look garish.




Use Quirky Decorative Elements:

To help your bar stand out, you can use elements in your decor that aren't commonly on the list of decorations. Consider incorporating wine bottles, glassware, and other bar equipment as adornments for your Christmas tree. These elements help grab the attention of your guests, driving engagement further.
Create a Special Menu:

Since menus are seen by every customer that walks through your establishment's door, spice things up by creating a holiday-themed menu. You can also include Christmas-y drinks like mistletoe martinis, eggnog, and candy cane cocktails to the menu to ensure your guests get the complete package.
Set up Attractive Table & Bar Top Decor:

Embellishing your bar top or tables is quite straightforward. You can include everyday elements such as tablecloths and paper towels. However, the catch lies in using varieties that are in holiday colors. You may also use the same method to decorate other pieces of furniture in your bar.
Switch up The Uniforms:

Swap your staff's regular uniforms with special, holiday-centric uniforms to further uplift the ambiance at your bar. Using simple Christmas hats, shirts, and aprons will be adequate to help your staff look the part.
The Takeaway
Whether you're looking for small commercial bar designs, or are looking to create a grand pub, it's essential that you implement tenets that will both attract customers and keep your employees comfortable. Creating a well-designed bar includes both informed planning and effective utilization of the space & facilities by your staff. Ensure your mixologists understand your bar's layout and design well enough to work efficiently.