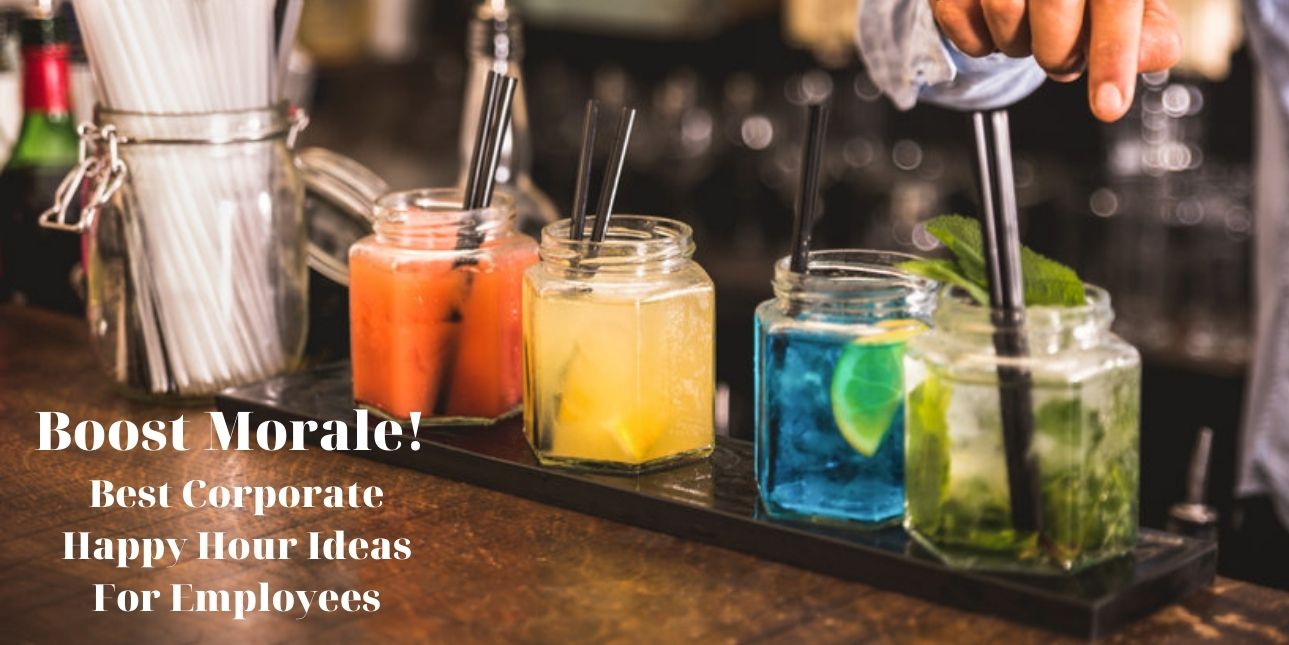 If you wish to boost employee morale, then you should host company hours every week. With corporate happy hours, your employees can unwind and relax after a busy work week. They will also get the chance to socialize with their teammates and talk about things other than work.
In this article, we share the best company happy hour ideas, when business happy hour should be held, how to pick the perfect location to host a corporate happy hour, and the essential bar equipment needed for a corporate happy hour.
Best Company Happy Hour Ideas
Company happy hours are held to give employees time to connect with their colleagues, wind down, and relax. Ideally, the best happy hour ideas are simple, where your employees can share a drink with their coworkers. But with increased work pressure, companies need to be creative and put some thought into hosting the perfect corporate happy hour for their employees.
Here is a list of the best ideas for hosting a corporate happy hour:
International Dishes: Corporate bar party ideas should include special dishes from across the world as many of your employees will come from diverse backgrounds and ethnicities. You can promote cultural bonding through food during the happy hour. During corporate happy hour, your employees would love to try East-Asian, Southeast Asian, Middle-Eastern, and Continental cuisines. During such an event, they will also have the opportunity to exchange ideas and learn about different cultures.
A Potluck Affair: Potlucks are one of the most popular yet economical company happy hour ideas that you can initiate. During potlucks, your team members or colleagues can bring their favorite dish or beverage. It promotes inclusivity, bonding, and openness. Potlucks are also a hot topic of discussion and preparation, and people will enjoy planning for them well in advance to the event. Your employees can also try out new dishes during the potluck. Most potluck dishes are unique homemade dishes that are not readily available in restaurants or bars.
Beverage Options: Before planning any corporate dine-out and happy hour, you should remember some of your employees can be teetotalers. You can include novel beverage options during business happy hours. Here is a list of novel beverages or non-alcoholic beverage options that you can include in a corporate happy hour:
Smoothies
Juices
Mocktails
Sodas
Non-alcoholic Beer
Milkshakes
Kombucha
To serve chilled beverages during corporate happy hour, you will need a host of commercial kitchen equipment. You will require commercial ice dispensers or commercial ice machines, commercial freezers, commercial refrigerators, blenders or mixers, and other essential commercial kitchen equipment.
Pick a Theme: Everyone wants to let their guard down once in a while. You can pick a theme for your company's happy hour. Thematic parties are one of the most popular bar party ideas you can implement during corporate happy hour. Your employees can dress according to the theme for the evening. You can choose from various thematic bar party ideas like classic era themes, pirate themes, superhero themes, and other interesting thematic concepts.
Screen Live Sports: Most of your employees will follow sports or any other big sporting event. So, you can screen live matches during company happy hours. You can also make customized t-shirts or hoodies for the employees depending upon the teams that they support.
Sporting Events: You can also use the happy hour to include scavenger hunts, card games, ping pong, and other indoor sports that your employees will like. Many companies host bowling competitions during corporate happy hours, where the employees can have a round of beers with their fellow team members. For outdoor activities, you can host a paintball battle between two or more teams. You can make customized jerseys for each team and after the event, your employees can share a glass of beer or cocktail depending upon their taste.
Musical Events: Bar party ideas for a corporate happy hour should include musical events or band nights. You can host a local band during the event or host a karaoke night where your employees can happily sing along to their favorite songs.
Other Events: You can host a lot of events during corporate happy hours. You can host an art exhibition during happy hour where your employees can share their paintings, sculptures, images, and other artworks during the event. It will boost their morale, and they will look forward to the event. You can also have a wine tasting session during company happy hours. You can take them to a vineyard or a restaurant where they can taste different types of wine. Wine tasting sessions are perfect for manyemployees in your organization as there are a lot of corporate employees who are wine connoisseurs.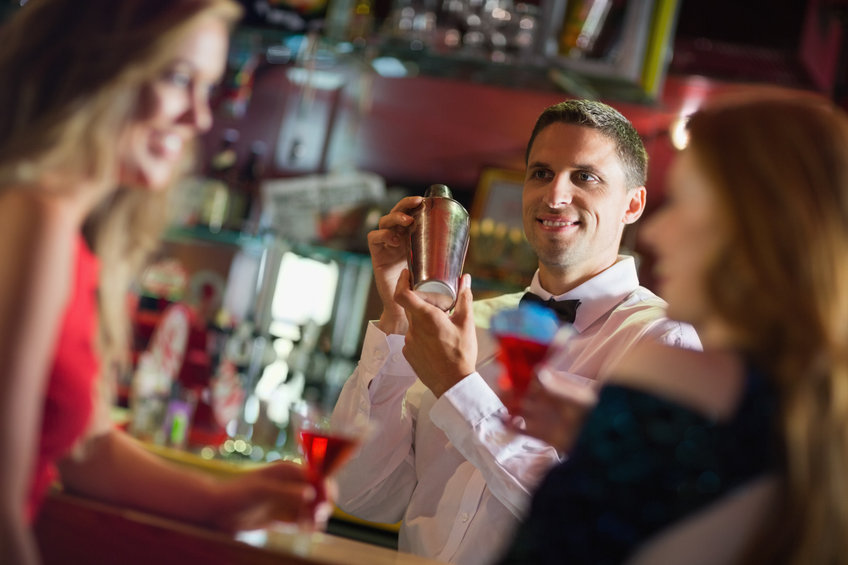 Host cooking events for your employees. You can bring along a celebrity chef to share some specialty dishes with your employees. They can learn how to cook various types of specialty dishes, and they can be an inclusive affair. Most cooking events are perfect for corporate happy hour. Your employees can try their hand in making seafood, desserts, or any special entrees. After that, they can share a glass of wine with their colleagues along with their recently cooked dish. You can also divide the employees into groups and host a cooking competition. You can also give out prizes or goodies to the winning team.
Comedy events or events with comedians can boost the mood of the employees. Comedy and alcohol help people to unwind. You can invite a professional comedian to your event or host an open mic session for interested employees. Your employees will get a perfect platform to showcase their brand of humor and comedic talent.
Invite a Guest Speaker: Many companies or corporations blend company happy hours and learning experiences. You can also invite a guest speaker, subject matter expert, or a panel of specialists during your happy hour. The topic of the discussion should be beneficial and exciting for the employees. You should not stretch the guest session too much, as too much information can become overwhelming for your employees after a hectic week at work. You can conclude the sessions in less than 20 minutes and add short Q&A sessions with the guest speaker or the panel.
What time should a business happy hour be held?
Most companies have a 9 to 5 PM or 10 to 6 PM schedule. And on Fridays, offices or businesses wind up their operations early by 4 PM or 5 PM. As a thumb rule, you can start company happy hour from 5 PM on Fridays, when all your employees will be free from work. They can casually relax with their colleagues and relieve their stress.
How to Pick The Perfect Location For Company Happy Hour?
You can choose from a variety of places to host your company happy hour. You can opt for an indoor or outdoor location for your corporate happy hour. With a happy hours bar, you can provide your employees an opportunity to chill out and breathe some fresh air. You can also book a bar, cafe, restaurant, convention center, hotel, or any other indoor space for your company happy hour. The happy hour will help them calm down and increase team bonding at the end of a busy week.
Essential Bar Equipment For Corporate Happy Hour
Hosting indoor or outdoor corporate happy hours needs a lot of prep and equipment. You can purchase some essential commercial kitchen or bar equipment for company happy hours to cut down on recurring costs. Additionally, you can purchase dicers, commercial refrigeration systems, commercial freezers, and other essential commercial bar equipment to serve your employees during corporate happy hour.
You can also browse through a bar equipment buying guide to purchase the right set of bar equipment for your company's happy hour.