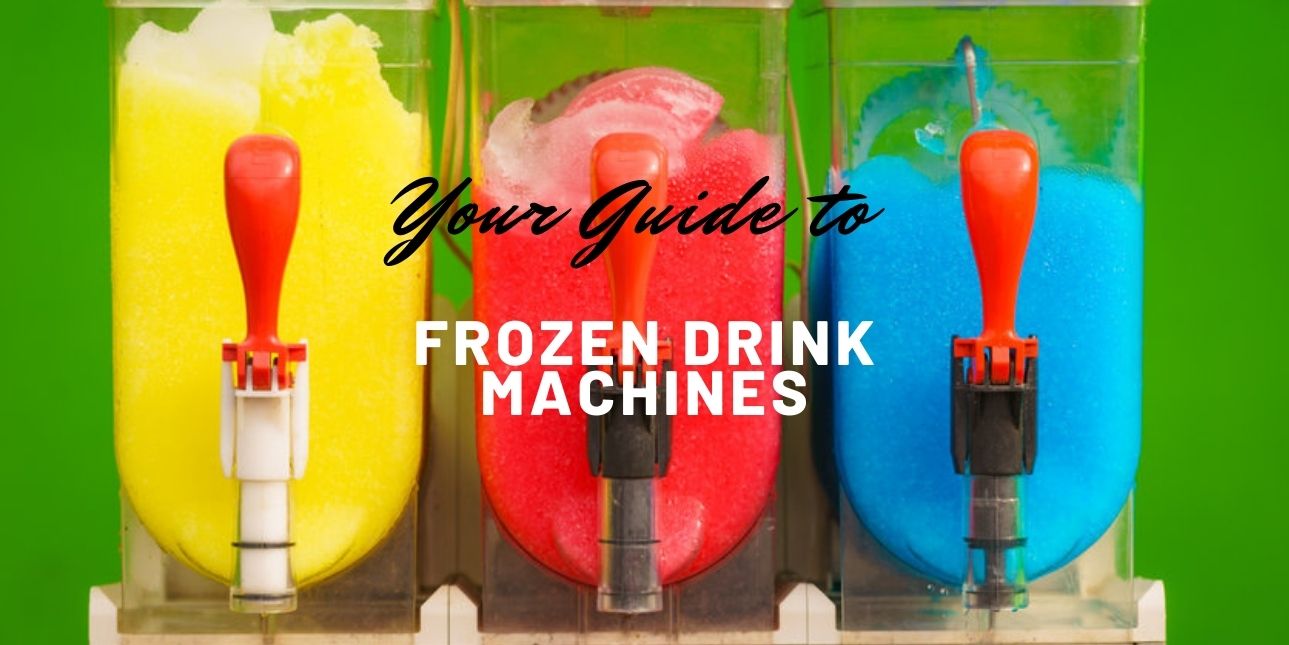 Frozen drink machines are contraptions that revolutionized refreshments sections in commercial food establishments ever since they entered the market. They not only prepare drinks like slushies or granitas, but are also handy in providing your customers with frozen varieties of carbonated drinks, and even healthy options such as smoothies. Their vibrant colors and designs often act as crowd-pullers, allowing you to target impulse sales by grabbing your customers' attention.
These tools have made their presence felt across the types of commercial food businesses. Whether it's fast-food restaurants, fine dining establishments, or institutional dining areas like university cafeterias, frozen drink machines are a great way of increasing customer engagement and your profit margins. Summer or not, people across age groups love the taste of frozen refreshments, and adding frozen drink machines to your existing kitchen line-up will allow you to diversify your menu, while quickly generating a positive return on your investment. Read on as we discuss the intricacies of frozen ice drink machines and how you can choose the best option for your establishment.
What are the Types of Frozen Drink Machines?
Several variants of frozen drink machines with improved performance, reduced downtimes, and simpler maintenance have taken over the markets in recent years. Business owners can choose their machine based on the types of drinks they want to offer to their customers, and can also factor in the number of drinks they intend on serving on an average day. The prevalent types of restaurant frozen drink machines are:
Powdered Auto-fill Machines:

These varieties allow your staff to store the slushy powder mix in the canisters of the frozen drink machine, and also perform the mixing. There's minimal external intervention required, as the refilling and dispensing portion of the tasks are automatic. These machines are known for uniform mixes and can help you save a lot of time as they store and prepare the powder mixes for you.

Liquid Auto-fill Machines:

These machines are similar to powdered auto-fill machines, except that they run on liquid mixes to prepare slushies. These ice drink makers will allow you to store pre-made liquid slushy mixes in the machine, and will also prepare the frozen drinks and dispense them.

Manual Pour-over Machines:

Pour-over models are straightforward and have to be operated manually. The frozen drinks and mixes are prepared outside the machine, and can only be stored in them. Your staff will have to refill the machine from time to time, and keep a track of the levels of the frozen beverages within.
What are the Benefits of Having a Frozen Drink Machine?
Frozen drinks can bring in a healthy amount of variety to your establishment's menu. They can make just about any drink, including beverages like coffee. With the uptick in the popularity of drinks like Nitro Coffee, you can offer customers a different take on tried-and-tested beverages. The smooth and uniform cooling provided by liquid nitrogen brings in a delectable texture to the coffee that is loved by a large number of people. Frozen ice machines also provide your establishment with the potential to attract customers without advertising directly. The bright colors, the textures within the bowls when the slushies move around, and the sounds made by the dispensers all act to bring in impulse sales by fascinating potential customers. These machines also allow you to add your own twist to drinks and market them using quirky names - something that customers will remember. They help you make a mark on your customer base and increase the number of regulars over time.
What are Their Attributes & Features?
Most frozen ice drink machines are customizable and can be outfitted with additional accessories that are produced by the manufacturer. Frozen drink machines can be made to match your interiors and decor, so your establishment doesn't have to worry about its theme being disturbed by a new addition. From intricate & artsy designs to minimalist matte finishes, ice drink makers are extremely versatile and can be extremely simple to induct into your existing line of equipment. However, bear in mind that frozen ice machines with lesser moving parts are easier to service, maintain, and clean.
What are the Drinks You Can Offer?
With frozen drink machines, the list of refreshments you can offer is almost endless. From carbonated drinks to alcoholic beverages, a wide range of possibilities is available when you choose to induct the best-frozen drink maker for your establishment. In case you want to offer a different take on cocktails to your customers at the bar, you can quickly turn your frozen drink machine into a margarita or a daiquiri maker. The colorful alcoholic beverages will be a hit with your patrons. For the more health-conscious guests at your establishment, you can also offer smoothies to help them get their daily nutritious fix. Along with a large assortment of coffee; milkshakes, frozen lemonades, and juices are also easily made and served using frozen drink machines.
The Top-rated Manufacturers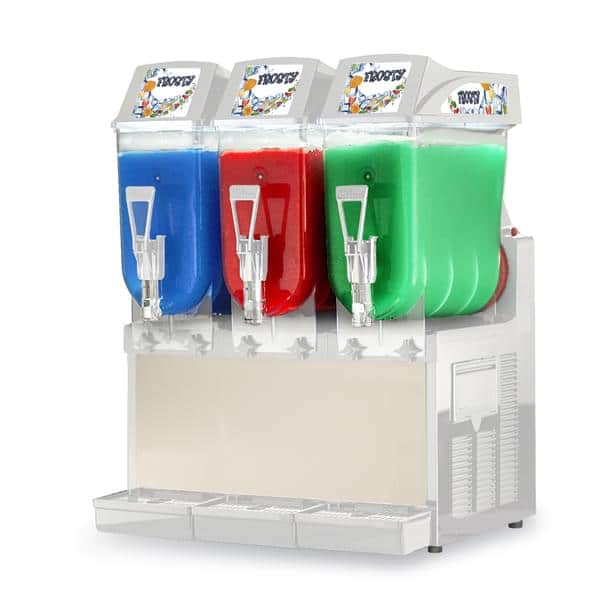 Now that you must be invested in the idea of procuring a frozen drink machine for your establishment, it's important to understand where you can procure the best models from. Our selection of ice machines is sourced from the best in the business, the top names in the industry include:
AMPTO

Admiral Craft

BUNN

FETCO

Grindmaster-Cecilware

Eurodib USA

Omega

Stoelting
What Should you Look for When Choosing a Frozen Drink Machine?
It's important to take into consideration several factors before you settle on a particular frozen drink machine for your commercial food business. These factors include:
Usability:

Make sure the model you select is easy to use for your staff. Complicated tools increase the incidence of operational errors and can lead to losses for your business.

Maintainability:

Choose machines that are easy to clean and maintain. These factors affect the longevity of your frozen ice drink machine. The more serviced and well-kept your machine is, the longer it will last.

Volume:

The volume of frozen drinks your machine can serve directly affects the number of sales you can make. Understand the number of customers you want to serve and pick a model accordingly.

Price & Accessories:

Understand the amount of money you have to spare to purchase a frozen drink machine, and purchase a model that is of the best quality within your budget range. Consider the accessory options carefully and choose only those that are relevant to your operational goals.
Should You Buy, Rent, or Lease?
While each of these options is equally valid, only one of them might suit your predicament. Buying a new machine might involve high upfront costs, however, it helps you save a lot of money in the long run due to the unit already being paid for, and the warranty agreements that come with it. Renting allows you to save up on cash, although the maintenance costs will have to be borne by you in case the machine malfunctions. Lastly, leasing can also be a prudent choice for business owners that want to take a seasonal approach to sell frozen drinks. Leasing allows you to acquire frozen ice machines for set periods of time, bound by a contractual agreement. The costs are often lower than rentals, and some lessors allow you to purchase the machine with a balloon payment at the end of the term. Consider all the three options for your establishment, and choose the one that is most pertinent to your financial situation.
What's the Best Place to Install a Frozen Drink Machine?
Make sure the frozen drink machine is commensurate with the aesthetics of your establishment. Try to place decorated machines upfront on the counters to attract customer attention. Since there are distinctions in these machines when it comes to air vs. water-cooled machines, location matters not only to aesthetics but also to operability. Air-cooled machines require ample amounts of ventilation to function effortlessly. Since most frozen drink machines are countertop models, you won't find trouble accommodating them in the front house space. However, larger variants will require floor space in your kitchen.
Maintenance & Upkeep
Frozen drink machines are fairly easy to maintain and clean. Regular service calls will ensure your machine lasts long and is at the forefront of your operations. Newer models require a lesser number of service calls, however, routine checks are always beneficial and can help you prevent any impending problems. While carbonated drink chambers are sealed and require minimal cleaning due to their isolation from the external environment, bowls that prepare cocktails, smoothies, and milkshakes require daily cleaning to avoid bacterial contamination.
Frozen drink machines can be exciting new additions to your existing line of equipment. They bring in vibrance and the prospect of impulse sales to your establishment. Don't miss out on choosing from the best models of commercial ice makers and frozen drink machines to help you achieve your business goals during the summer!