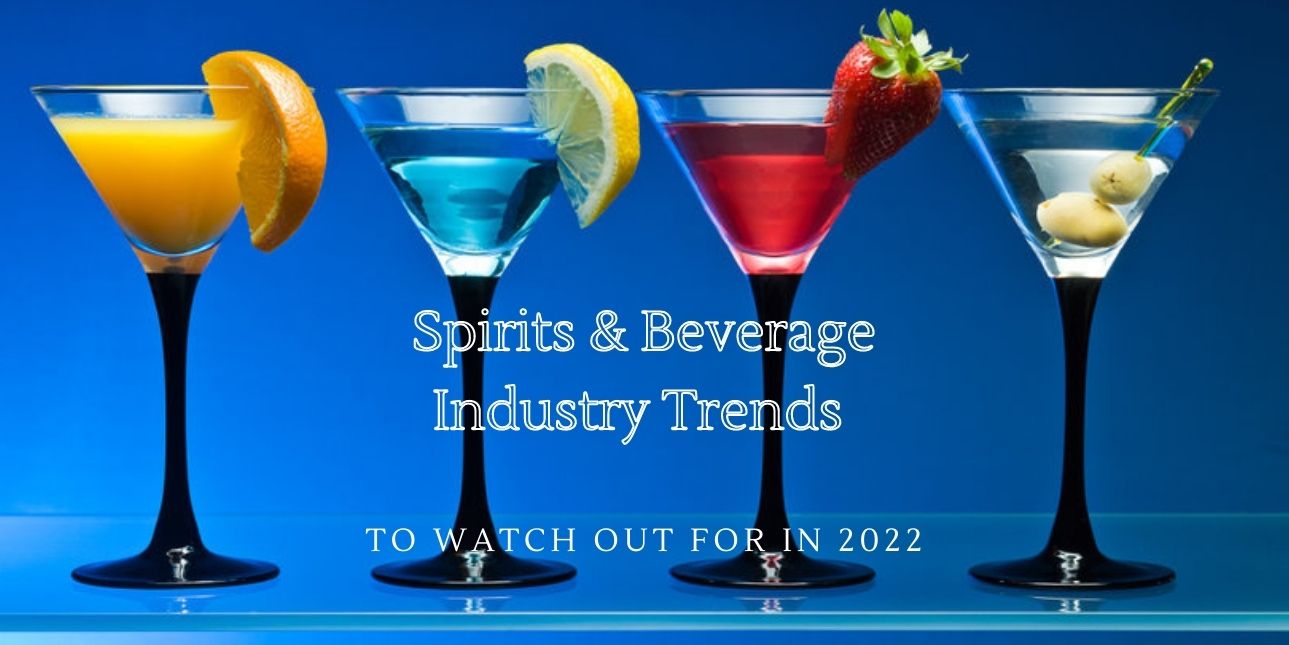 A wave of change has been taking over the food and drink industry ever since the pandemic. Understandably, the beverage industry has not been immune to these changes. A number of factors like the rising popularity of non-alcoholic beverages, demand for sustainable products, supply chain problems, and growing popularity of the sober-curious movement have been shaping the demand and growth of the industry at large.
The drinks and beverages industry has been hit just as hard as other sectors in the years marred by the coronavirus pandemic. A variety of changing patterns have given rise to new trends such as a preference for drinking at home rather than at a bar, considering the safety precautions. The last two years have also seen an uptick in the global demand for nonalcoholic beverages, a trend that is influenced by a growing desire to drink consciously among the younger population. With the limits and curbs placed on in-person consumption and dining, there has also been a sharp increase in the production and sale of ready-to-drink cocktails or RTDs, an important emerging product among some of the most popular spirits today. Read on as we discuss the various factors and expectations that will shape the beverage industry's trends in the forthcoming year.
Conscious Indulgence
The growth of the non-alcoholic beverage industry marks a new era. The sector has seen a growth of over 30% in the last year and is worth over 300 million dollars in revenue. The rise of these options amidst popular spirits lies in the increase of health awareness and conscious indulgence. A sizable portion of the population has begun reconsidering its alcohol consumption, and non-alcoholic drinks are a good transition tool. Most of the consumers are not completely sober, but are merely trying to cut back on their drinking habits. One of the key drivers of this subsector's growth is the popularity of the sober-curious movement. Due to the overall trend of millennial and gen Z consumers drinking less alcohol compared to previous generations, low & nonalcoholic drinks have found loyal consumers that demand newer tastes and options. These options constitute some of the most promising aspects of the beverage industry, a trend that has also been noticed by major players. Heineken made over 50 million dollars in sales with its low & non-alcoholic beverage options in the year 2020. These beverages have also begun making their way into the cocktail section, with their growing use as a base for a large array of drinks instead of their harder counterparts.
The Agave Boom
Agave-derived liquor has been taking over both the American and global markets at a breakneck pace. While tequila and mezcal are the most popular, other spirits such as ricilla, bacanora, and sotol are achieving higher rates of consumption as well. In the year 2020, tequila volume overtook both rum and bourbon, indicating a growing demand for these spirits. This is driven by a variety of factors that experts expect to continue well into 2022 and beyond. Tequila has seen an increased presence in the higher-end spirits markets, and is no longer seen as a mere party drink. A variety of serving options along with polished cocktail varieties using tequila and mezcal as base drinks are increasingly available in the market for customers to choose from. Agave-based beverages also have high-end brands to thank for becoming some of the most popular spirits available. The quality improvement in tequila and mezcal offerings has boosted interest among sophisticated connoisseurs and piqued the interest of drinkers that go for quality over quantity. This is marked by a higher incidence of agave-based drinks in cocktail and portable bars at a variety of establishments in recent years. Tequila and other agave-based spirits are certain to be among the top beverage industry trends for the foreseeable future.
Healthier & Greener Wine
Consumers are increasingly aware of both their health and the impact of their indulgence on the environment. This has driven interest & support for products that are high on the health quotient, and also in brands that are doing their bit to better the environment. Food and beverage industry trends suggest that consumers are taking positively to natural and organic labels, and make a conscious effort to purchase items that rank high on the sustainability aspect. Several vineyards are returning to techniques used in the past to create modern drinks, and research suggests that it could turn into a very profitable model for the wine subsector. Another emerging beverage industry trend is centered around boxed wine. Considering the fact that the drink happens to be one among the few eternally trending spirits, consumers are following the sustainable pattern and have taken well to boxed wine offerings. Formerly considered low quality, the packaging model seems to have shaken off its bad reputation and is being increasingly promoted by socially conscious consumers. Boxes are lower on the emissions spectrum, a major reason behind the growth. This steady surge is expected to push the box wine market well into the next year and in the post-pandemic era.
The Rise of Premiumization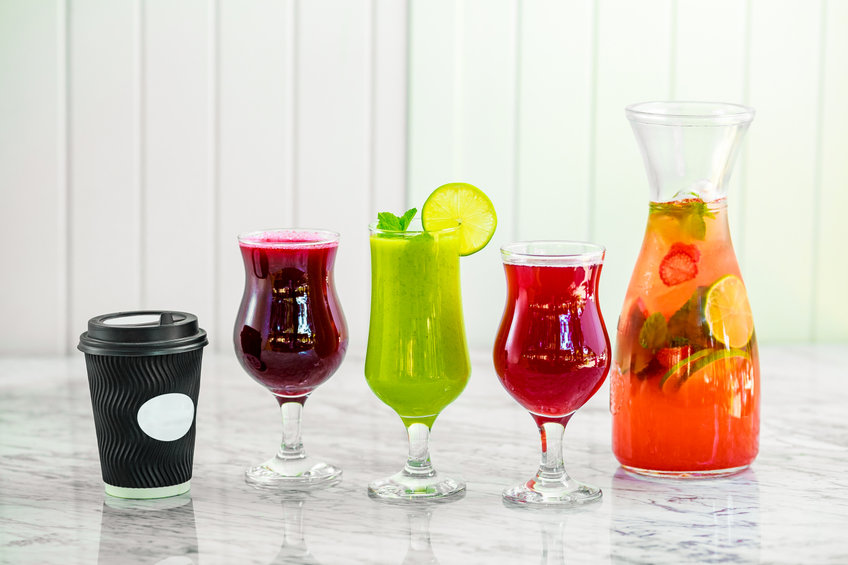 Consumers have been sticking to high-end brands more than ever during the pandemic years, and this is expected to continue in the upcoming year. This beverage industry trend is being influenced by consumers conscious about quality, and the type of material being used to produce their liquor. Premiumization has also gotten a boost by a cocktail of factors such as the overall rise of sustainability. The millennial push driving trust in established brands over recent entrants to the market is another factor that has caused the expansion of premiumization. Trending spirits offered by big names are dominating sales in both establishments and off-premise options such as liquor stores & online marketplaces. Premium brands are especially seeing high growth in agave, single-malt, and molasses-derived spirits. This trend has led to a resurgent growth of on-the-rocks drinks served by several establishments, a clear indication of a return to the classics. Business owners can benefit from procuring quality ice-making machines to piggyback on this emerging trend to enable them to bring in higher margins of profit.
Emerging Floral, Herbal & Fruity Flavors
A greater demand is being observed for drinks that infuse floral, herbal, and fruity flavors. This trend also extends to tropical cocktails and drinks that actively employ spiced undertones to generate interest in them. This includes both non-alcoholic beverages and the trending spirits in the market. More than 30% of consumers say they prefer floral or herbally flavored sparkling water, and over 20% claim to be interested in potential alternatives in both juice and soda. Taste notes like hibiscus and lavender are gaining popularity, along with the spicy touches of rosemary and turmeric. Formally trending spirits such as absinthe are also seeing a steady revival due to the renewed interest in botanically-influenced palates of the new generation of consumers entering the market.
Growing Demand for RTDs
The ready-to-drink market has been the recipient of massive growth rates in recent years and has witnessed a great push during & following the lockdown periods. This is in great contrast with the market just about a decade ago, when the offerings were dominated by synthetic and high-sugar products that didn't appeal to a lot of consumers. The rise of new flavors in RTDs and hard seltzers are among the key factors for their dizzying growth in recent years. They're bound to take up nearly 8% of the alcoholic beverages market and are sure to compete with some of the most popular spirits. One of the prime reasons for the accelerated growth in this subsector is the unavailability of on-site drinking for a good portion of the previous year. This has pushed customers to look for options that offer the cocktail experience without the hassle of having to visit a bar or a bistro. Non-alcoholic options among RTDs are also expected to experience similar growth trends and are on track to amass over 230 billion dollars in market share in 2022.
Supply Chain Concerns & Challenges
The beverage industry has not been resistant to the various supply chain problems brought about by the pandemic. A combination of other factors such as the imposition of tariffs and Brexit has also affected the spirits trade across the world, and several trending spirits from abroad have been out-of-stock for quite some time. Non-locally sourced liquor has also seen steep increases in price, and several popular beverage brands have struggled to create products due to the unavailability of raw materials. However, not all of this has necessarily led to grim outcomes, as challenges posed by difficulties in trade have led to a boost in the procurement of locally sourced options, and a conscious decision to move to more sustainable alternatives for the long run.
The Outlook
Global volatility continues due to the emerging situations surrounding the COVID-19 pandemic, and this has had major implications on beverage industry trends & the consumption of time-tested products. The industry is going through periods of profound change, and this includes the revival of forgotten spirits, and an uptick in the incidence of voluntary teetotalism, albeit with a twist. Understanding the emerging trends in the beverage industry can help you serve your customers better in a year where we all hope for more unlocks and greater freedom of movement.