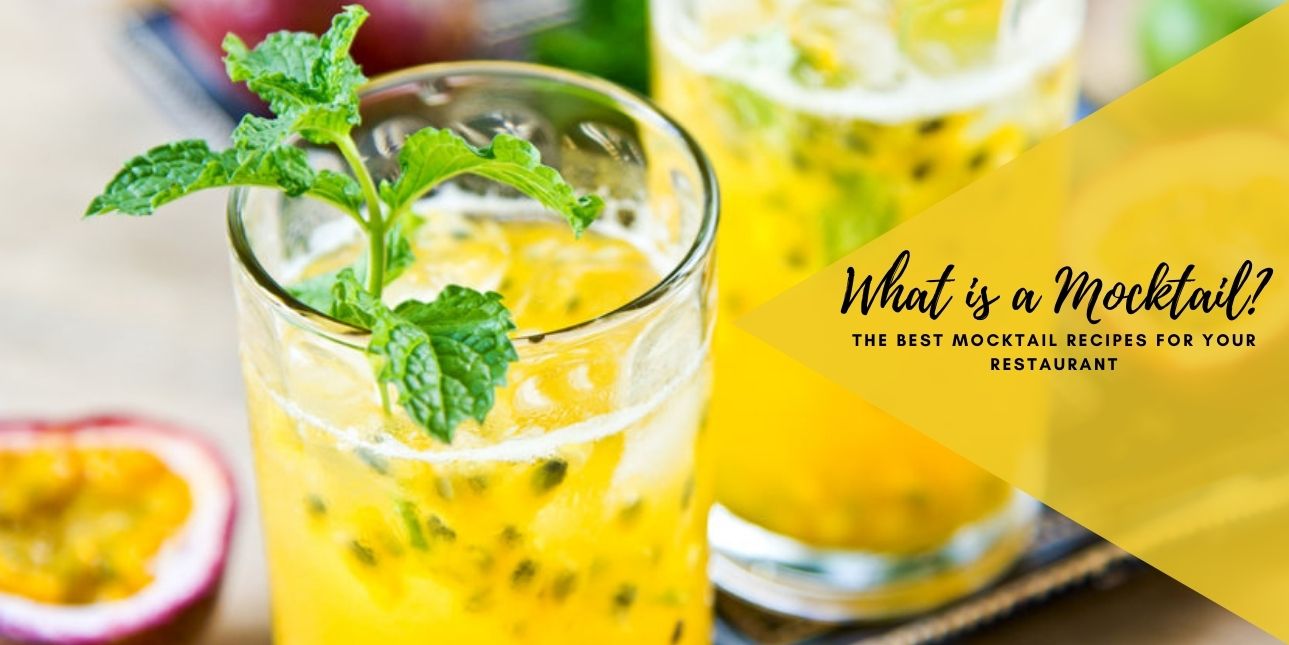 Mocktails are non-alcoholic drinks that are made from juices, sodas, sweetened water, and other ingredients. Mocktails replicate the flavors of gin, vermouth, bourbon, bitters, and other different types of alcoholic drinks. They are accompanied by dishes that complement their flavor. Mocktails are refreshing drinks that can work with appetizers, entrees, and desserts. With mocktails, you can create an engaging dining experience for your patrons. Though mocktails are an essential part of any cuisine, they are mostly overlooked in favor of their alcoholic counterparts and juices. In this article, we share insights on the true meaning of mocktails and what mocktails are in general, the most popular mocktail recipes, celebrity mocktail recipes, and essential equipment required to make mocktails.
What is a Mocktail Drink?
Virgin mocktails are derived from their cocktail counterparts. Modern mocktails are mostly made from ginger ale, club soda, flavored syrup, juices, club soda, and lime. Mocktails are made by professional bartenders who can recreate non-alcoholic versions of cocktails while maintaining their flavor. Here is a list of commonalities in the attributes of different mocktails:
Cocktail Glass:

You can serve modern mocktails in cocktail glasses. The design of the cocktail glass depends upon the type of drink served.

Garnishing:

You can garnish most mocktails with lime wedges, lemon wedges, and mint leaves. You can also use rimming sugar or rimming salt around the edges of the glass.

Unique Blend:

Mocktail recipes blend unique recipes and ingredients that are crafted to create a complex flavor palette.

Mixology and Preparation:

The mixology methods and preparation methods are similar to that of cocktails. Professional bartenders entertain guests with cocktail shakers and other tricks for making preparation and serving entertaining.
Celebrity Mocktail Recipes
The history of the mocktail is closely related to the celebrities that endorsed the drink in the 20th century. Modern mocktails became popular because of teetotaler celebrities who wanted a sophisticated blend of cocktails without any alcohol. These drinks are similar in taste but are made from non-alcoholic beverages. Here is a list of the most popular celebrity mocktail recipes:
Roy Rogers Mocktail: The Roy Rogers mocktail has been named after the famous Hollywood actor and celebrity. The Roger Roy mocktail is blended with cola and grenadine syrup. For garnishing this mocktail, you can use maraschino cherry and lime.
Arnold Palmer Mocktail: This is a popular mocktail that is made from iced tea and lemonade. The ratio of tea, sweetened syrup, and lime depends upon your taste. This celebrity drink is named after famous golfer Arnold Palmer, who used to prefer this drink over other mocktails. It is also known as the 'Palmer Drink' or 'Half & Half' across the world.
Shirley Temple Mocktail: This drink is as famous as the celebrity it has been named after. Coined by a bartender from Chasen's, California, the Shirley Temple mocktail was first mixed in the 1930s. The Shirley Temple mocktail is made from a blend of ginger ale, lemonade, lemon-lime soda, and non-alcoholic ingredients. It is finally mixed with grenadine syrup and garnished with a maraschino cherry.
Most Popular Modern Mocktail Recipes
Modern mocktails are highly sophisticated and are made from various ingredients. They are more than just a blend of syrup and sugar. They are rich in flavor and served as accompaniments with breakfast, lunch, or dinner. You can also serve these without any accompaniments.
Mango Mule: The Mango mule mocktail is based on the mango mule cocktail. Vodka is replaced with honey, lime, and mango puree or juice in the mocktail version. You can add the puree with lime juice and shake it well with ice and honey. Pour the drink into a cocktail glass and garnish it with lime wedges. It is an extremely popular drink among women and children.
Moscow Mule Mocktail: Moscow mule mocktails are served in copper mugs. You can make a Moscow mule mocktail from lime juice, crushed ice, club soda, syrup, and ginger beer. Garnish your drink with fresh mint and lime wedges. This refreshing drink is popular in beach-side resorts and cafes.
Chili, Lime, and Pineapple Soda Mocktail: The Chilli, lime, and pineapple soda mocktail is a unique soda-based recipe developed by Seattle Seltzer. It is a simple drink that you can make by blending mixed juice with club soda. It is popular in food service establishments without soda fountains. Women across different age groups prefer this spicy, sweet, and citrus sour drink.
Virgin Mary: The Virgin Mary mocktail is derived from the 'Bloody Mary' cocktail. You can replace vodka with syrup and other ingredients in the Virgin Mary mocktail. This flavorful drink is a crowd-favorite and provides a delectable and flavorful experience.
Virgin Mojito: The Virgin mojito mocktail is a refreshing drink made from a mix of lime, mint, club soda, and syrup. It is a popular drink among both children and adults. You can add fresh lime juice, honey-based syrup, fresh mint leaves, club soda, or sparkling water. Put the ingredients in a shaker along with crushed ice. You can serve it with ice and garnish the drink with lime wedges. You can also use some mint leaves for garnishing purposes.
Lemon and Lavender Mocktail: Lemon and lavender mocktails are made from lavender-infused syrup, fresh lime or lemon juice, ice, and some grenadine syrup to create a subtle yet unique flavor. You can serve lemon and lavender mocktails with continental entrees and desserts.
Lemon Grass and Basil Buss Mocktail: The Lemongrass and basil buss mocktail is a popular refreshing mocktail served during hot afternoons. This is a perfect summer mocktail preferred by children or adults across all age groups. You can make this modern mocktail by peeling the lemongrass's outer layers and using the tender heart of the lemongrass stalk. You can use six to seven stalks to make one cup. You can also replace lemongrass with lemon zest or lime zest, depending on the availability of these ingredients. A glass of lemongrass and basil buss mocktail is crafted from chilled water, granulated sugar, Thai or Genovese basil leaves, lemongrass, kosher salt, and sanding sugar. These ingredients are blended with orange zest, orange juice, strongly brewed white tea, fresh lime juice, and orange twists for garnishing. You can also add some basil, lime wedges, or mint leaves for garnishing your lemongrass mocktail.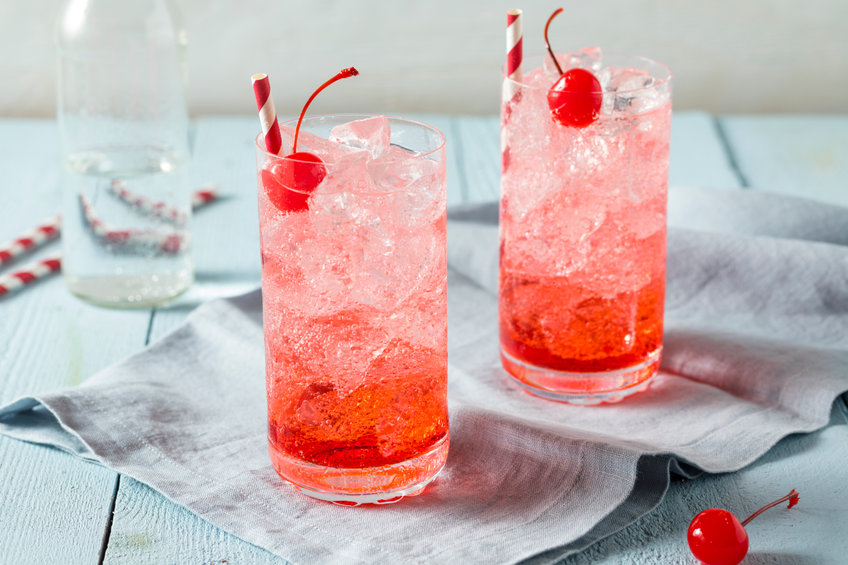 List of Essential Commercial Kitchen Equipment For Making Mocktails
So far, we've covered what mocktails are and the most popular mocktails that you can serve your patrons. But to craft visually appealing and delicious mocktails, you will need some essential commercial kitchen equipment and utensils. Here is a list of essential commercial bar equipment for serving mocktails in your foodservice establishment:
Commercial Ice Machines:

Your checklist should include high-quality

commercial ice machines

. As all mocktails are served with crushed ice or ice cubes, you will need a commercial-grade ice machine for your bar or restaurant.

Blenders:

You will need high-quality blenders and mixers for mixing syrup, fruits, vegetables, water, and ice for your mocktails.

Mocktail Glass:

You will also need sturdy and aesthetically pleasing cocktail glasses to serve your range of mocktails. You can browse through

a guide to cocktail glasses

to choose the correct type of glasses for your foodservice establishment.