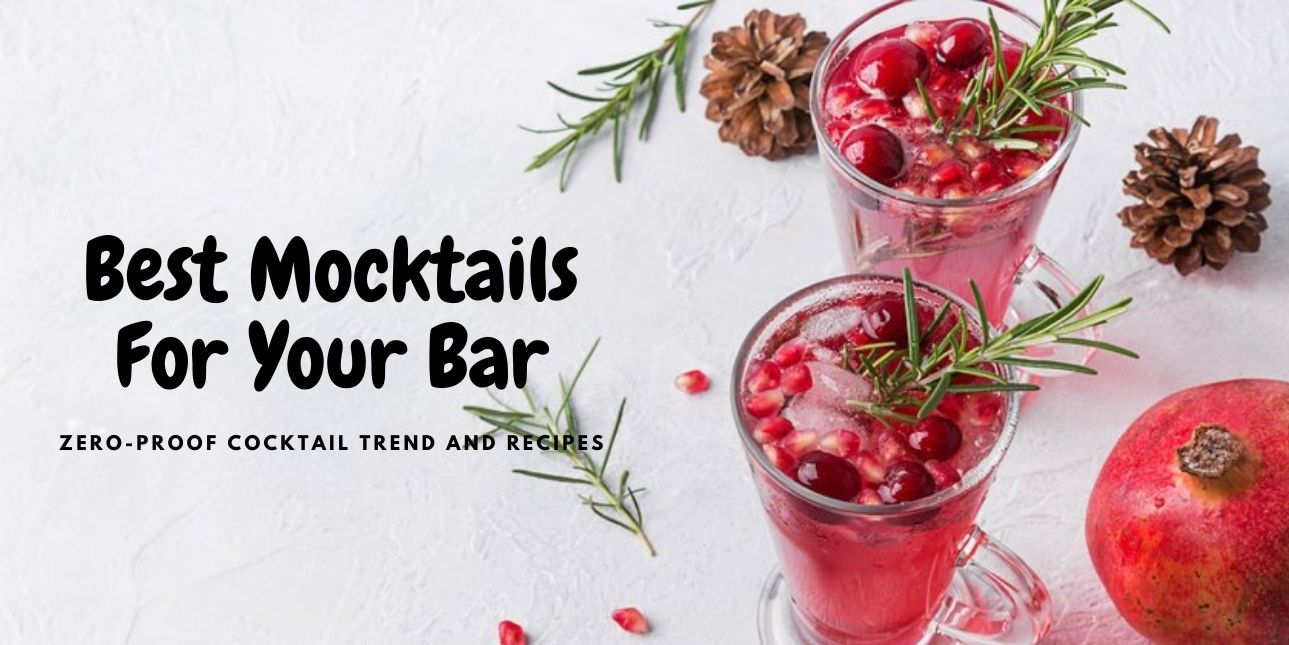 Health-conscious people prefer non-alcoholic beverages over alcohol-laden drinks. Many have replaced their cocktail cravings with zero-proof cocktails or non-alcoholic drinks that can taste like cocktails but without alcohol.
In this article, we discuss zero-proof drinks, zero-proof cocktails, the best zero-proof cocktails, what mocktails are, what shrub is, the difference between zero-proof and proof on alcohol, and a list of essential equipment needed for your bar.
What is Zero-proof?
Zero-proof beverages contain no alcohol. These zero-proof beverages are non-alcoholic alternatives that mimic the flavor of alcohol or spirit. You can recreate the flavor or complexity of alcohol with zero-proof options.
What is a Zero-proof Cocktail?
Zero-proof cocktails do not have a single drop of alcohol. Earlier zero-proof cocktails were primarily made from sweetened juice-base. But recently, in zero-proof cocktails, new non-alcoholic spirits have been used that can attain the flavor of a cocktail.
The Best Zero-proof Cocktails
Most zero-proof drinks taste similar to their alcoholic counterparts. Perfectly made zero-proof cocktails are balanced. To create a zero-proof drink, you need to balance the sweetness, sourness, and bitterness. Later, you can add spices, herbs, and other essential savory ingredients to attain the perfect flavor. Most bar menus include zero-proof versions of popular cocktails. The zero-proof cocktail menu is carefully chosen by bars and bartenders. It is easier to recreate non-alcoholic versions of cocktails that have less alcohol to begin with. Here is a comprehensive list of such zero-proof drinks:
Margarita:

Margaritas are highly popular across the world. and are easy to replicate. You can easily prepare a zero-proof Margarita for your patrons.




Paloma:

The national drink of Mexico, Palomas are ideal for hot summer afternoons. To recreate a Paloma with zero-proof alcohol, you will need grapefruit juice, lime juice, sugar or artificial sweetener, and soda. You can use seltzer water or grapefruit soda to make it fizzier. You can add a sprig of fresh rosemary to garnish the zero-proof Paloma. Additionally, you can use grapefruit slices and crushed ice in your non-alcoholic Paloma.




Zero-proof Negroni:

You can serve a zero-proof Negroni with half-grapefruit, a slice of orange, caster sugar, cardamom pods, coriander seeds, natural-red food color, ice, white grape juice, and soda.




Virgin Mojito:

Alcoholic and non-alcoholic mojitos are some of the most popular drinks globally. You can create a booze-free Mojito with sugar, mint, limes, and soda water. Virgin mojitos are popular across all age groups.




Lemongrass-basil:

The Lemongrass-basil non-alcoholic beverage is a popular refreshment during the summer months. The Lemongrass-basil mocktail has a zesty-lemon twist which makes it flavorful and distinct. To create the perfect mocktail, you will need six or more lemongrass stalks. Also, you will require freshwater, basil leaves, salt, milled sugar, orange zest, orange juice, and lemon juice. Additionally, you will need brewed white tea and lemon twists for garnishing the drink.




Goose and Gander:

To create this unique zero-proof cocktail, you will need gooseberry brine made from pickled gooseberries, Thai or Persian basil leaves, pineapple gum, and Yuzu tonic. To prepare a goose and gander zero-proof drink, you will need to muddle all ingredients, add crushed ice, and top it with a Yuzu tonic. You can garnish your beverage with fresh gooseberry or lime.




Pom and Pom:

If you wish to serve a floral and fresh beverage, then pom and pom can serve the purpose. You can use fresh ginger syrup, lime, pomegranate, and jasmine green tea. To prepare pom and pom, you need to brew the tea for an extended period to create a bitter taste.




Turmeric Shrub:

You can create this healthy zero-alcoholic drink with lemon juice, honey, apple cider vinegar, chopped ginger, turmeric, cinnamon sticks, cloves, and spices. You can use sparkling water, crushed ice and garnish it with basil leaves.




Autumn in New York:

Apple Som Cordial is the main ingredient that makes the drink distinct. Add lemon juice, dona turmeric concentrate., aquafaba, cardamom extract, and month leaves to create the perfect 'Autumn in New York' zero-free drink.
Most zero-proof cocktails use shrubs, soda, seltzer water, and other herbs. The shrub and soda mix can create a complex non-alcoholic drink.
What is a Shrub?
A shrub is mostly a base of vinegar. Apple cider vinegar is a popular shrub used to create zero-proof cocktails. Apple cider vinegar or ACV contains sugar, honey, agave, spices, herbs, and apple extracts.
What Are Mocktails?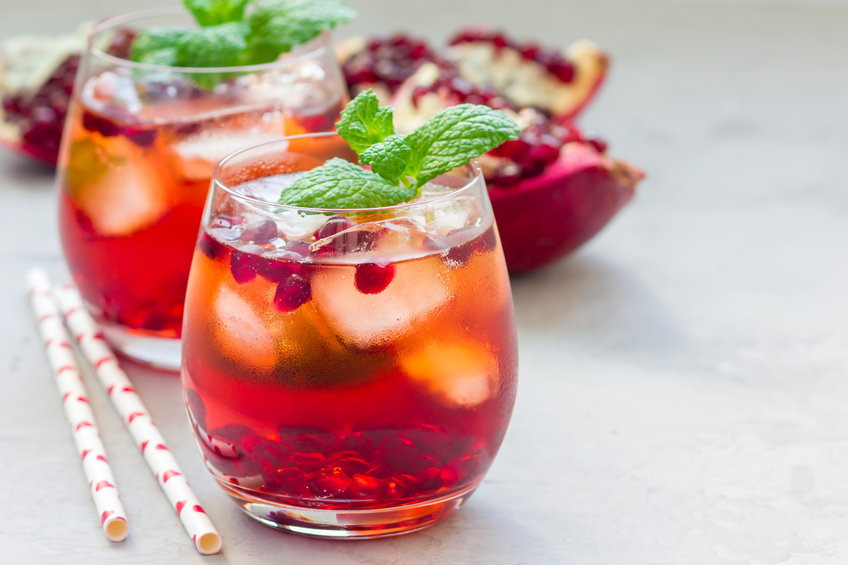 Mocktails are non-alcoholic mixed or blended drinks. Mocktails contain zero alcohol. Mocktails are mostly made from fruit juices, syrups, soft drinks, sodas, seltzer water, or iced tea. They are mostly sweet and non-alcoholic versions of cocktails. With readily available ingredients, you can create popular mocktails like Shirley Temple, Italian cream soda, fired ice, or queen's punch. Both children and adults can safely consume mocktails.
Most bars or restaurants serve mocktails to anyone. The preparation time and process for mocktails remain similar to cocktails. Mocktails are mostly presented in cocktail glasses. They also contain fresh ingredients to create a rich and distinct flavor. You can garnish your mocktail with herbs, lime slices, or rimming sugar. You can use various mixology techniques to create different mocktails.
What do Proof on Alcohol And Zero-proof Alcohol Mean?
If you ask anyone, 'What does the proof on alcohol mean' most will answer it incorrectly. There is a distinct difference between proof of alcohol and zero-proof alcohol. Alcohol proof or proof is a measure of alcohol or ethanol in a beverage. The proof is mostly twice the level of alcohol by volume. While zero-proof alcohol means the drink contains no alcohol.
For example, vodka with 50% alcohol means 100-proof vodka. And 120-proof vodka means there is 60% alcohol in the beverage.
The concept of 'Proof on Alcohol' originated in England. Soldiers in the 18th century used to douse gunpowder in rum to test potency. If wet gunpowder got ignited, it was 'proof' that it had the requisite strength. In the 19th century, a baseline to measure alcohol proof was standardized in the United States. And the measure of 50% alcohol by volume was set during that period.
The Best Equipment for Your Bar
Whether your signature drink is zero-proof or includes alcohol, you can never go wrong stocking your bar with high-quality, premium equipment. Here's our short list of quintessential equipment in all popular bars today:
Bar Refrigerators: Bar refrigerators are designed to keep your most in-demand drinks chilled and delectable throughout the day. Whether your choice of purchase is a walk-in refrigerator, a reach-in unit, or an underbar refrigerator, make sure to browse our collection for the highest-quality appliances at the best prices.
Ice Makers: Good-quality ice can go a long way in enhancing the flavor and profile of your drinks. Whether you're looking for nugget or crescent ice, an under-counter or remote-cooled machine, a simple dispenser, or an ice scoop, CKitchen hosts hundreds of popular commercial ice machines at competitive prices, organized by ice type, machine type, and size for your ultimate convenience.
Cocktail Dispensers: Why stop at just cocktails? These handy dispensers, apart from improving your bartenders' access to serving appliances, are just as nimble at dispensing zero-proof mocktails. Using carbon dioxide to pressure drinks out of a faucet, these appliances yield perfectly mixed and several hundreds of drinks per hour.
For a more comprehensive list, make sure to read our blog on our favorite bar equipment!