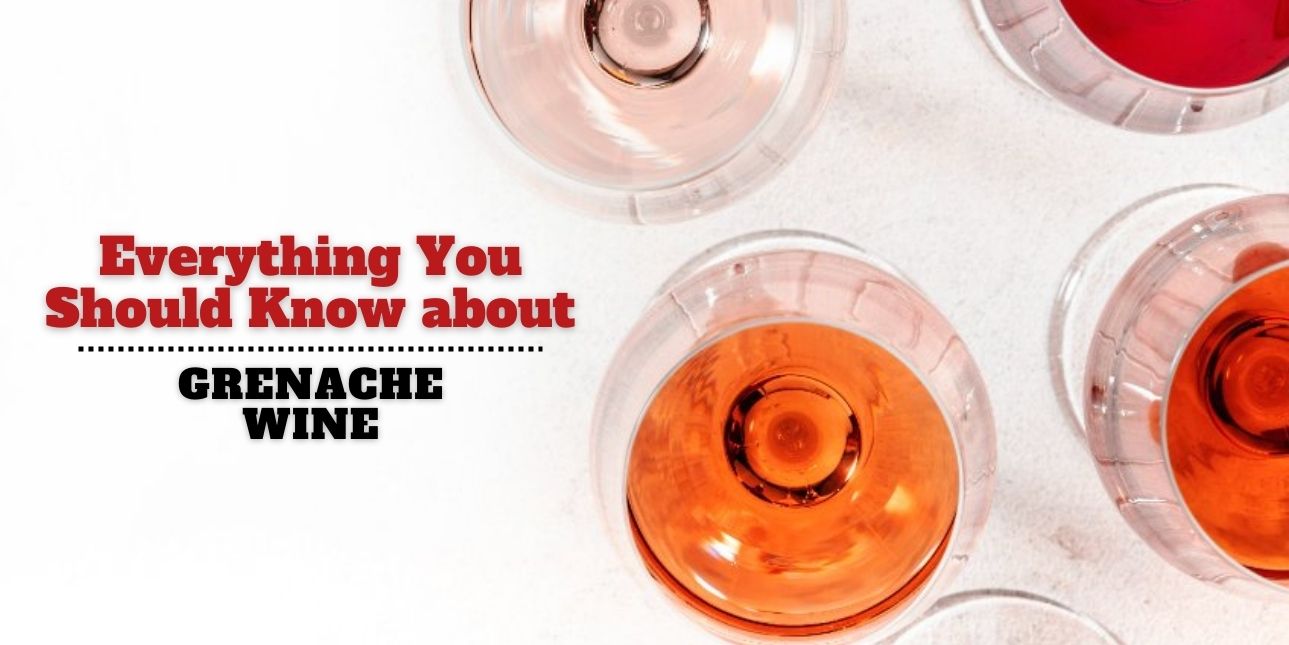 One of the best grape varieties, grenache, does not nearly get the recognition it merits. Although it enjoys a high degree of respect among sommeliers and other wine experts, consumers frequently overlook it in favor of more well-known red grape wines like Cabernet Sauvignon, Merlot, and Syrah. In an ideal world, It would not be like that: Grenache's influence in the renowned mixes of Chateauneuf-du-Pape and Rioja cannot be emphasized enough, and varietally labeled wine from areas like Spain's Campo de Borja and Cariena districts and California's Central Coast are prime examples.
What is Grenache Wine?
Grenache wine is manufactured in many countries in a variety of styles. Grenache is most recognized for its red varieties, although it also contributes significantly to rose wines as well. The majority of the globe refers to it as Grenache or, less frequently, Grenache Noir, but it is known as Garnacha in Spain and other Spanish-speaking nations that produce wine. Whatever name it goes by, Grenache produces superb red and grenache rose wine, whether it is bottled alone or in combination with other grapes. The white variant of the grape variety, known as Grenache Blanc wine, or Garnacha Blanca, is significant in the Priorat white wines of Spain and the Rhone Valley white wines of France.
If you're looking to start a wine business, make sure to include grenache wine on the list. Moreover, make sure to take a look at our favorite tips on how to start a wine business.
What Does Grenache Wine Taste Like?
Sometimes grenache's primary flavor profile is compared to a fruit roll-up. Black cherry, raspberry, blackberry, and strawberry are prominent among the red and dark fruits, and they are moderately complemented by a spicy blend of black pepper, cinnamon, and star anise, as well as undertones of tobacco and bay leaf. Their scent is a concoction of spice, citrus zest, and jammy fruits. Grenache often has a high alcohol content as well as mild to moderate tannins and acidity. It has a lingering finish and a plush and velvety texture.
Tips for Tasting Wine
Follow these steps to have the best experience when tasting wine:
Examine the wine's color and transparency through the glass as you take a thorough look at it.

Give your glass a fast 10-second swirl before taking a whiff. Inhale deeply while placing your nose inside the wine glass to get a taste of the wine.

Swirl it around your mouth after taking a short drink. When tasting something for the first time, take note of its acidity, sweetness, tannins, and alcohol concentration. Then go on to tasting notes such as berries, spice, and oak, and finally the finish.
What Flavor Does Grenache Have?
Grenache wines make excellent single-varietal wines. They are delicious by nature. They burst with rich fruit flavors like strawberry, cherry, and raspberry at the first sip. Additionally, grenache wine contains roasted nut flavors, which soften into a delicate earthiness as yields rise.
Grenache wines can take many different forms. They taste better when consumed young. The flavors frequently get more complex as they age. Grenache wines can be as full-bodied as Cabernet Sauvignon or they might be lighter in the body.
Grenache wine is built on the base of vibrant cherry and berry fruit. These fruit flavors can be particularly strong and ripe in warmer vintages; it's not unusual to find Grenache-based wines with moderately high alcohol content and frequent licorice overtones. Grenache also has characteristics of dry or scrubby herbs, as well as spice aromas that complement Syrah or Tempranillo well in a combination. Grenache red wine is best drunk at a temperature that is just below room temperature; a 20-minute stay in the fridge provided it was not taken straight out of a 55° wine cellar, will allow the fruit and spice to stand out.
Five Best Grenache Wines
There are several Grenache wines available in the market today. These five producers are the perfect place to start:
Vineyard Bonny Doon

Château d'Esclans "Whispering Angel" Rosé

Clos Mogador

Yangarra

Château La Nerthe
Grenache Wine Pairing
Stews and Braises
Braises and stews taste well with grenache wines: long, slow-cooked roasts of pork or lamb that can be a little fatty. They also go well with daubes and stews with dark, winey sauces. People enjoy grenache with classic French bistro dishes like rabbit as well as hearty Spanish or Portuguese country cooking.
British Pub Classics
A simple grenache or grenache blend, such as a Côtes du Rhône, pairs well with many British pub classics, such as sausage and mash, shepherd's pie, and steak and kidney pie. Its lack of tough tannins makes it a better match for cheese than many more structured reds, particularly British regional cheeses like Cheddar and Red Leicester. Grenache also goes well with cooked dishes such as macaroni and cheese, as well as vegetable bakes and lentil or bean-based dishes. Lighter, fruitier styles, such as cheap Grenache from Spain, are ideal for grilling - Grenache seems to enjoy a little smoke.
There are Grenache that pair well with charcuterie and Spanish classics like paella and pork and beans, as well as porty southern vin doux naturels like Maury, Banyuls, and Rasteau that, like port, pair particularly well with charcuterie.
What Should Not Be Paired with Red Grenache?
It's usually quite high in alcohol, so it cannot be paired with steamed or raw dishes like sea bass or salads - even ones with meat - or delicate cuisines like Cantonese or Japanese. It's also not great with citrus. But it's a fantastic seasonal wine; a warming, welcoming bottle to serve in the autumn and winter months. Grenache should be found in every cellar.
Methods of Aging, Stainless Steel Versus Oak Barrel
When it comes to aging, wine enthusiasts understand the difference between oak barrels and stainless steel, each of which has a distinct impact on the flavor profile of a wine. If you enjoy Grenache with warm, spicy aromas, you'll love this wine aged in an oak barrel. On the palate, oak tends to impart vanilla and smoky notes.
The same can be said for heady, intoxicating spicy aromas—if you like them, go for a barrel-aged Grenache.
Wood is porous, allowing oxygen to pass through. Oak aging allows the wine to react with the wood to intensify its aromatics while honing its flavors without allowing in enough oxygen to ruin the wine.
Stainless steel, on the other hand, does not disrupt the natural fermentation and aging processes of wine. Aging wine in stainless steel adds no nuance to the flavor profile and allows you to enjoy the grape's true expression. Is grenache wine sweet? Grenache aged in stainless steel is recommended for those who enjoy the natural sweetness of Garnacha grapes.
If you like wine cold, make sure you have a wine cooler and ice maker in your kitchen.
The Old World Versus the New World
Old World Grenache wines have a lighter body, brighter acidity, and more earthy flavors. Garnacha varieties from the New World, on the other hand, have a fuller flavor, lower acidity, and higher alcohol content. New World Garnacha varieties also have a much riper flavor.
Traditional definitions of what it means to be "Old World" or "New World" change as the temperature and general climates of growing regions change.
Grenache grapes are actively grown in several prominent regions around the world. Modern generations of winemakers have adopted an advanced approach to producing them over the years, so you can now find several varieties available, each of which is juicy, spicy, and a little floral.
Grenache wines are the perfect reason to start seeing red, whether as a complement to a hearty grilled or braised meal or as a delectable wine experience on their own.