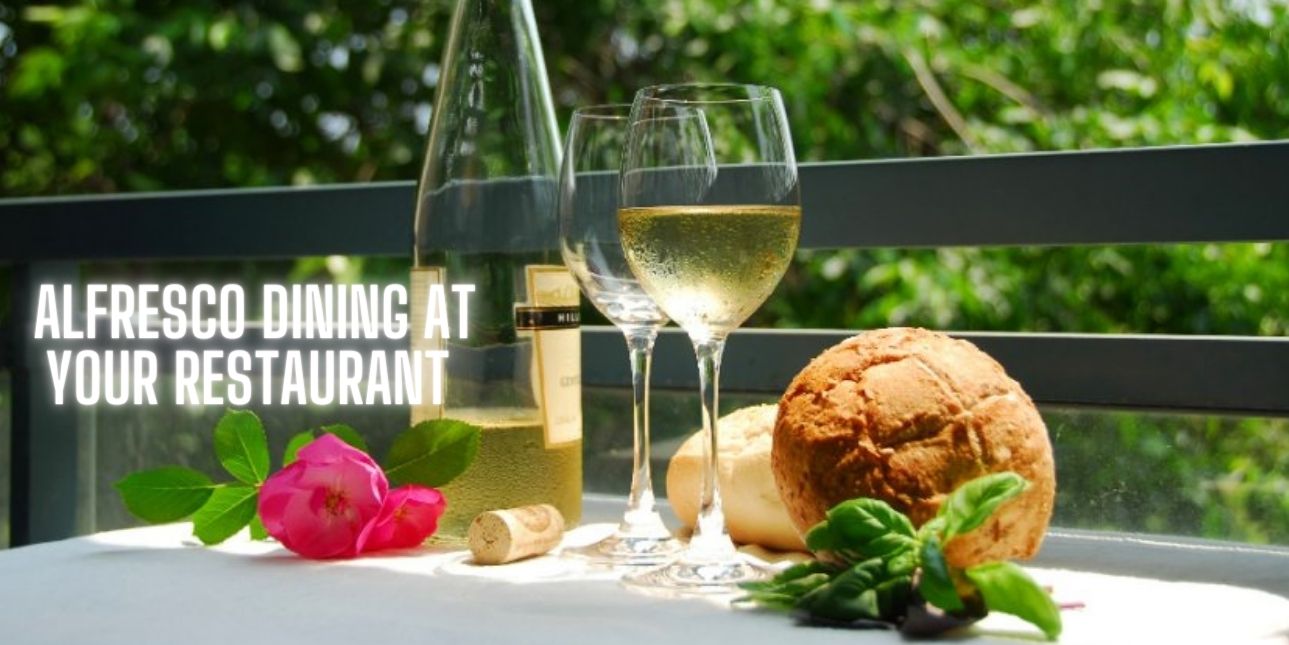 The phrase "Al Fresco" is derived from the Italian language which loosely translates to "in fresh air." Dining alfresco simply means eating outside, but it's not your average picnic on a blanket — this form of dining typically incorporates elegant tablescapes, comfy seating, and a more party-like ambiance.
Summer is all about dining alfresco, or eating your dinner outside. In this article, we discuss how to create an outdoor eating area where your customers can enjoy their food and drinks. During the warmer months, alfresco dining allows restaurants to make use of their outdoor space and expand their restaurant capacity.
Alfresco dining is significantly more common in nations such as Australia, Greece, and many parts of the United States. However, in areas with more volatile weather, alfresco dining is frequently scarce.
The History of Outdoor Dining
Lords who hunted for fun in their spare time would throw hunting feasts in the Middle Ages, and for most of history, holding outdoor meals remained a hobby for the wealthier classes. In the 18th century, rich Americans paid to get access to private gardens where they could indulge in outdoor pleasures. Picnics did not become a more widespread practice across class boundaries until the Victorian era.
However, back then, folks had to bring or prepare their own food. That changed in the early 1900s when a Coney Island seaside restaurant launched the trend of the outdoor dining experience. Soon, an increasing number of food sellers provided outside seating, particularly in famous tourist places such as Coney Island.
There is now an entire culture centered on outdoor dining. People appear to like eating alfresco more than ever before, whether for the distinct environment or simply to get some fresh air, from trendy beer gardens to opulent rooftop eateries.
Types of Alfresco Dining
Types of outdoor dining depend largely on your chosen style of table management, but it's important to get your head around the different types of alfresco dining that are commonly seen.
It's an American expression, but it simply means providing nice chairs just outside your establishment to attract new customers or passers-by.
Patio dining
If you have enough space outside for a few chairs and tables away from the traffic, it can serve as a popular hangout location for the locals and tourists alike. Patio dining helps restaurants increase their seating area.
Rooftop dining
Many rooftops have an excellent view of the city, making it a more popular type of dining in hotels and restaurants. When done right, rooftop dining can enhance the dining experience and the taste of the food.
Garden dining
Garden alfresco dining, like patio dining, is all about maximizing your outdoor space. Customers who wish to get away from the hustle and bustle of the city are drawn to this type of setting.
Setting:
The setting is a crucial consideration while dining outside. By creating an intimate tablescape with flowers, candles, and lovely crockery to create a beautiful environment, you can surely ensure an excellent dining experience for your guests.
A restaurant or a café can easily create the best possible outdoor dining experience by including elements such as:
Create a lush botanical environment by decorating your patio with nature. The ideal plant options for your restaurant patio will be easy to care for and will survive in your locale's climate, so do some research on plants that thrive in your location. Flowering plants that do not release too much pollen are the best choice.
Residential-inspired design
If your restaurant is more casual or rustic, including a cozy atmosphere on your patio may be beneficial. Consider replacing typical, consistent restaurant furniture with a more casual appearance - when done well, even mismatched furniture can seem sophisticated. Look to residential patio design for inspiration.

An awning or canopy can provide shade and flair to your outdoor space. Choose high-quality textiles that are cost-effective, long-lasting, and provide curb appeal to your home.

Being too cold can often become a dealbreaker for restaurants with outdoor dining areas. Many online review sites highlight whether or not restaurants have heated patio settings, so if you live in a chilly climate, heat lights can be an excellent purchase. To keep their customers warm and cozy, some restaurants create outside fireplaces or provide blankets. While in hot climates, covered patios or misters may be used to keep people cool.
Before investing in constructing an outside dining experience for your consumers, you should surely weigh the benefits and drawbacks of the notion.
Benefits include:
For starters, alfresco dining is popular. Today's diner seeks an experience, and they prefer to eat outside in a more festive setting.
With outside seating, you will draw more customers to your restaurant. This is because many diners prefer to eat outside. It greatly affects the senses, making food taste fresh and better.
Some diners love the scenery and the camaraderie that comes with eating outside with friends and family. Basically, when the weather is beautiful, outdoor dining increases, which means more revenue.
By providing additional outdoor seating, you increase the number of meals served each night, which means an increase in customers and profits.
Mother nature provides its own atmosphere and breathtaking views. Furthermore, when the weather is nice, your diners will feel more festive. The enjoyable atmosphere also stimulates greater wine, beer, and liquor use, which means more money for your business. Finally, because the focus is the outdoors, you don't have to spend as much money on décor and table design.
The downsides to alfresco dining include:
What makes eating outside so delightful might also be its worst disadvantage. You lose business when the weather is poor because you can't fill your outdoor chairs. Customers may become impatient as their wait times increase.
If you don't have an outdoor restroom, the load on your interior restrooms increases, which might lead to longer wait times. You also might have individuals moving between the outside and inside areas frequently, which might be annoying to customers inside and restrict your staff's movements.
During the summer, restaurants tend to favor outdoor dining. The go-to menu items for customers enjoying their summers are chilled drinks or beer with finger food. Customers frequently want cold drinks as a result of this. Commercial ice makers are highly suggested to ensure that you never run out of ice when serving. Restaurants, bars, and cafés that provide an outdoor dining experience for their customers need to keep bar equipment stocked.
After the pandemic, many restaurants introduced outdoor dining. Embracing the outdoors, however, is not simply a temporary solution to a global pandemic. Many restaurants, cafes and bars that had ventured outside have continued to operate both indoors and outdoors due to the benefits that come along with this type of setting.