The Buzz About Bottle Service
Bottle service creates an aura of exclusivity and a personalized experience for patrons.
Bar trends are constantly changing, but bottle service has been a constant for clubs and lounges looking to offer a lavish night out and treat their guests like royalty. It can seem intimidating and like a luxury only for celebrities like Jay-Z or Paris Hilton, but bottle service is a surprisingly simple way club and lounge owners can increase their profits and make anyone feel like a VIP.
Once understood and implemented, bottle service can become a vital avenue for profits as well as a way to attract affluent clubgoers.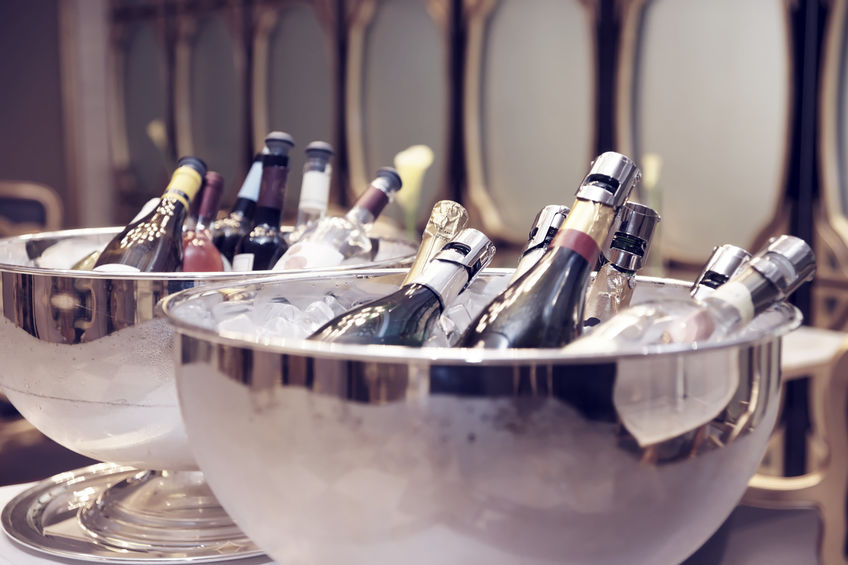 How Does Bottle Service Work?
Providing bottle service, sometimes referred to as "table service," is when a restaurant provides a reserved table with bottles of alcohol, a designated server, and a variety of drink mixers. Bottle service is commonly found at nightclubs and lounges and allows the patron to have a more private and high-end experience while the restaurant can drive up profits.
Patrons that reserve these VIP tables agree to pay a minimum on alcohol to secure the reservation, guaranteeing significant profits for your business as bottles sold in clubs and lounges are significantly marked up from what one would pay in a liquor store.
Bottle service is an excellent way to increase sales, and it only takes a few key elements to implement.
What Does Bottle Service Include?
By adding these simple components to your club or bar, you can wildly increase sales through bottle service.

1. The Velvet Rope

The biggest draw of bottle service is its exclusivity. Providing patrons with a separate area to relax and party gives them a more enjoyable experience that they are willing to pay a premium for in today's competitive restaurant climate.
An area in your venue that is either raised or lowered from the main floor or separated in any way is the best place to set up bottle service. Putting up a velvet rope, VIP sign, or private cabanas is the best way to ensure your VIP area feels exclusive and sectioned off from the rest of the venue.

2. The Servers

While the patrons on the main floor must jumble together to flag down the bartender, your bottle service patrons have the luxury of sitting back while their servers attend to their needs. The attention of a specific server makes your bottle service guests feel important and cared for by the club.
The bottle servers should be solely serving their clients in the VIP section to ensure they are well attended to. Clubs often provide flashy or fun outfits to the servers to cultivate a celebratory atmosphere, encouraging patrons to party harder and order more bottles.

3. The Supplies

In addition to the velvet rope, there a few more elements needed for successful bottle service. Of course, the most important are the bottles of alcohol themselves! For your bottle service to be a success, make sure to have a well-stocked liquor room that is possibly considered separate from the bar's bottle supply.
Some people don't enjoy taking shots of straight vodka, so be sure to provide fun and tasty mixers for your bottle service tables. This could include a variety of juices, syrups, and liqueurs so guests may mix their own drinks or ask their bottle server to do so for them.
Lastly and often forgotten, a reliable ice maker machine. Each VIP table doesn't have a built-in fridge, but you need an easy way to keep your guests' drinks at a cool temperature for the hours they are partying. The best method to serve the bottles is chilled in a champagne bucket filled with ice and water – a classy and simple way to keep everything cold.


The Benefits of Bottle Service

Bottle service is an exciting bar trend that can lure customers into your exclusive venue, but there are even more benefits to this serving method.
While your guests feel exclusive and taken care of, you get to reap these rewards and grow your business:

Massive revenue increase: It ranges by location, but the average minimum for a bottle service reservation can range from a few hundred dollars to several thousand. These prices are completely up to the owner's discretion and can be marked up for holidays or marked down for slower weekdays.

Events/parties: Offering bottle service is a great way to cater to bachelor/bachelorette parties, birthdays, anniversaries, and other large events. Bottle service makes it easier to order for larger groups for both the patrons as well as the staff.

Self-bartending: When guests are brought liquor and mixers, they often mix the drinks themselves. This allows your patrons to replenish their drinks faster. It also frees up bartenders and other servers to take care of patrons that are not ordering bottle service.
On its own, bottle service is a fun, trendy way to drive in customers and drive up sales, but it can also help your club run more smoothly, taking some pressure off your staff and yourself.


What Bottle Service Can Mean for Your Business

Bottle service has always been beneficial to club and lounge owners, but with the pandemic, it should be viewed as a massive opportunity. People miss dancing, drinking, and clubbing. The bottle service model can allow people to return to the club scene but maintain a distance from others by reserving a private table and avoiding a crowded bar.
The exclusivity of bottle service allows everyone to feel like a celebrity and makes any bar or lounge the hot place to go on a Friday night.
One of the greatest benefits is that bottle service encourages larger groups to come in, automatically increasing guests and sales. By requiring the table reservation in advance, you can be sure about filling up your floor on a Friday or Saturday night.
Bottle service can elevate your venue in popularity while increasing your overall profits. This makes it a simple and effective way to improve your business and make your club or bar a swarming and chic destination for clubgoers.