Bar Trends for Woman's Day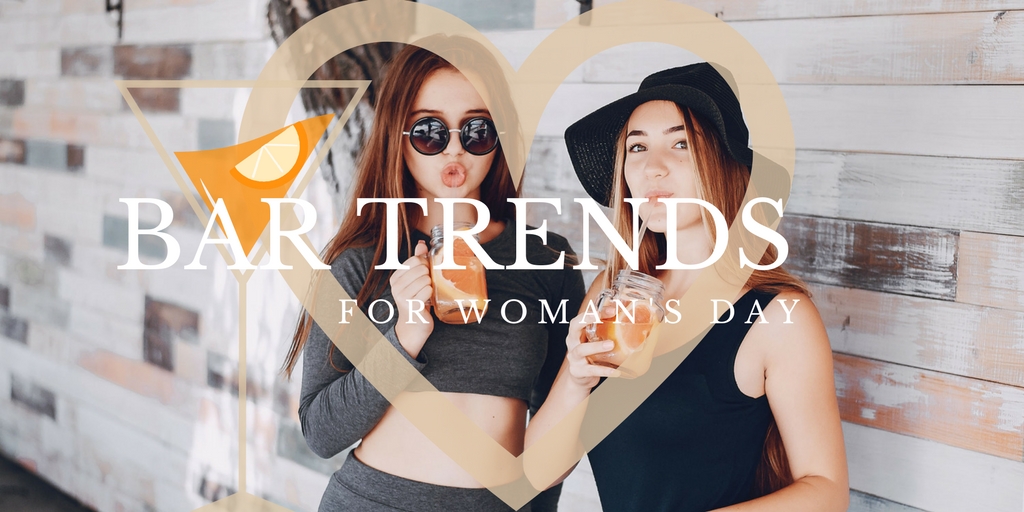 Woman's Day is coming quickly, and, with it, you will find many people heading out to bars and restaurants to celebrate the special day with their date or loved one.
If you own one of these establishments, then this is a great day for you. In fact, you do not have to care if you are single or not. All you have to care about is business and rolling in the dough.
Of course, it's a whole lot easier to do that if you know what the big Woman's Day trends are and how to prepare for them.
Offer "For Two" Specials
To start with, whether you like it or not, the fact of the matter is that people are going to be going out in pairs for Woman's Day. That's just tradition, so whether it's two best buds, a boyfriend, and girlfriend, a husband, and wife, or anything in between, you need to make some kind of preparation for all of the pairs that you will see on this day.
One of the smartest things that your establishment can do is to offer some kind of "for two" special.
Perhaps, for example, you want to have a "prix fixe" menu. When that is the case, you can create a special menu with something like an appetizer to share, two entrees, and a dessert course for a set price.
Or, if your establishment is all about the drinks, perhaps you can offer two glasses of wine, two beer flights, or something similar for a fixed price.
Whatever you do, if you can make some kind of a special "for two" deal, even if it is just a clever way to get rid of your "extras" before the end of the month, you will probably see a lot of people willing to partake, which helps everyone out.
Think Romance
Even if romance isn't your "thing" or isn't the usual vibe of your establishment, there is no better time than Woman's Day to give this theme a try, even if you have to fake it.
You don't have to do anything extravagant either. You would be surprised at just how effective a fancy tablecloth, some good deals on wine, and a few candles can go at getting people in the door.
Even if you have to hang hearts from the ceiling, doing something with your decor to signal romance and fun is sure to get people in the door of your establishment on the big day.
Remember the Single People
With all the couples that will likely come flocking to your door come to Woman's Day, it is easy to forget that there are a great many single people out there.
But, while all the other establishments in town are busy catering to the couples, you can stand out and succeed by doing something for the singles.
Maybe you'll want to arrange a "speed date" night at your bar, a board game event where people can meet and greet, or even just a special "single meal deal."
Whatever the case may be, if you create something fun and enjoyable that is just for the singles, you can cater to the "other half," meaning the people who are not a part of couples.
And, in addition to catering to an oft-forgotten clientele on this special day, you may even end up playing Cupid and making a love match. What could be better than that?
Put on Some Flicks
If you want a super easy way to get people through your doors, consider playing romantic movies at your establishment.
People love romcoms all the time, but they especially love them on Woman's Day.
If you can project "Breakfast at Tiffany's," "Sleepless in Seattle," or some other classic favorite on the back of your bar or on all your TVs while people eat and drink, then you can draw in a crowd on this special day. So, cue up the DVDs.
As you can see, there are a great many things that you can do to get with the trends and stand out as an establishment on Woman's Day.
Try one or more of these tricks or use them as inspiration to come up with your own. No matter what, you're sure to soar on Woman's Day if you just put in a little effort.