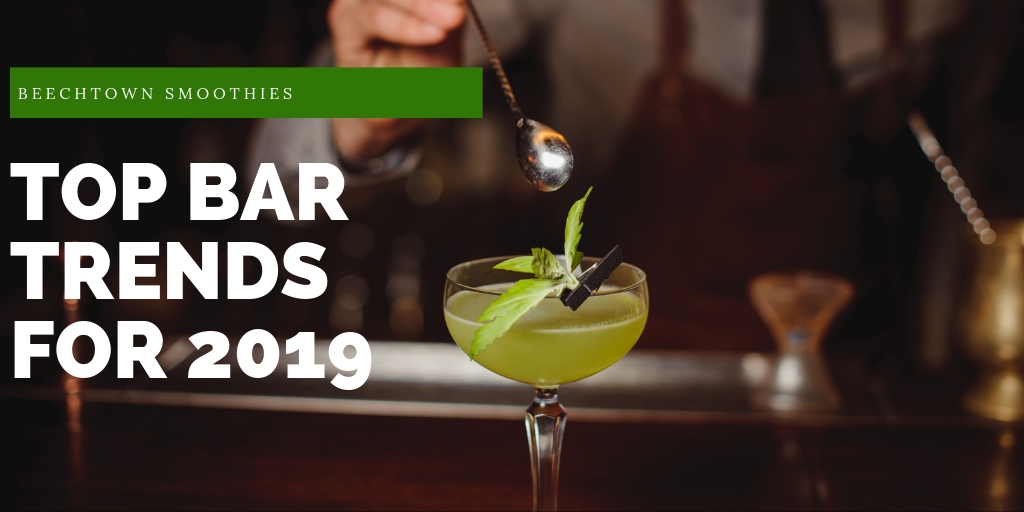 The new year is just around the corner and as we raise our glasses to the next 365-day trip around the sun, we're about to welcome an interesting year ahead for the bar and cocktail scene. Over the last several years, the cocktail has gone from the simple gin and tonic to something more elaborate. The selection of spirits, liqueurs, bitters, and garnishes making their way to the cocktail continues to grow by the day, and we're going to find intriguing new cocktails or old cocktails with an innovative twist being served at the country's best bars and lounges. Say cheers to the exciting new changes we're about to see in the cocktail scene in 2019!
No-Proof, Low-Proof Cocktails
bartenders will be serving more no-ABV and low-ABV cocktails in the coming year. As younger customers start showing their preference for drinks with little to no alcohol, savvy bar owners are beginning to realize that they have to stay up with the trend to allow their business to thrive even as a new generation of drinkers stay away from high-ABV cocktails. Expect to see more than same old grenadine and fruit juice combinations. With customer expectations high, bartenders will be making more complex, intricate flavors made from house-made tinctures of fresh herbs and barks, non-alcoholic liqueurs such as Seedlip, and fermented ingredients.
Sustainable Drinks
Cocktails made with sustainable ingredients, environment-friendly processes, and served in zero-waste containers will continue to rise in 2019. In 2018, the emergence of the plastic straw ban has opened up the conversation about what the foodservice industry needs to do to create a more sustainable business. And customers are not going to back down on shelling out bigger money for sustainably produced cocktails, even if they cost higher than regular drinks. Food waste is a particular issue that bold business owners have started to tackle head on. In 2019, we can expect to see more beers made from surplus bread, edible garnishes going on top of drinks instead of into the trash bin, and room temperature cocktails that use up far less electricity to make. Some establishments are also adding their own beehives on site to make honey for their cocktails.
Bizarre Ingredients
In 2019, experimentation is key. Bartenders will be hard-pressed to stir up their creative juices to create captivating new drinks made from ingredients you would not normally see in a cocktail glass. The trend has spiraled out of 2018 and into the coming year as bartenders have begun looking into the kitchen's larders and pantries for ingredients that could add an interesting new twist to their old recipes or create bizarre new beverages from scratch. Some ingredients you might start seeing soon include beets, black truffle, and anchovy.
Coffee Cocktails
Coffee and cocktails are two of the most popular drinks, but a coffee cocktail takes the caffeine and alcohol punch to another level. This sweet, refreshing palate cleanser is a great after-dinner drink. It is made using vodka, a shot of freshly brewed, strong, foamy espresso, a dash of coffee liqueur, and topped with ground coffee beans. Londoners, who take their coffee seriously, first began sipping on coffee cocktails, but the trend is expected to spread out across the pond in 2019.
Fancy Ice
Ice isn't going to be just ice in 2019. The FDA considers food as ice, and it's about time that the players in the cocktail scene start to treat ice as seriously as they treat the drink itself. Expect to find a variety of complex processes for making high-quality ice that goes into your cocktails, from hand-chipping to cracking and even melting ice in a smoker to be refrozen again to give whiskey a dark, smoky flavor. The quality of ice water also plays a crucial role. Some bars are starting to serve luxury ice, or ice made from bubble-free distilled water frozen into a large sphere that takes a long time to freeze.
Instagrammable Cocktails
Drinkstagramming, or sharing pictures of your aesthetically pleasing drink on Instagram, is only going to get more intense in 2019 as bartenders take on the challenge of creating cocktails that look good for the gram. We'll see everything from colorful salt on the rims of cocktail glasses to skull-shaped ice spheres and even out-of-this-world flaming iced drinks.