Wines for Christmas: How to Serve the Best Wines for Christmas Dinner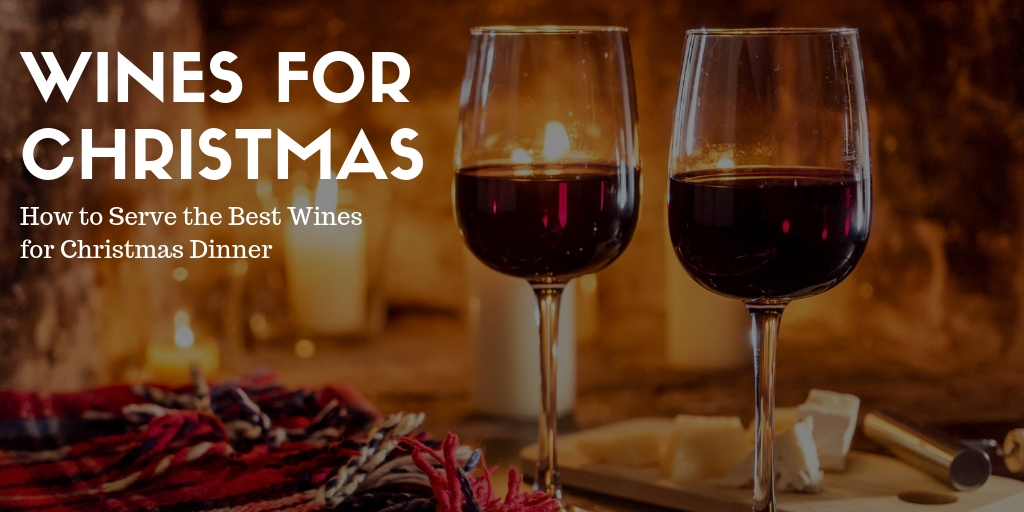 The holidays are the perfect time to stock up your cellar and serve your best wines to your customers. Christmas cheer is in the air and many people are more than happy to reach for a glass of wine to complement the perfect Christmas dinner. If you need help figuring out which reds, whites, or rosés go well with the traditional Christmas fare, check out our post below.
How to Choose the Best Wine to Pair with Christmas Dishes
When pairing food with wine, a good rule of thumb is to match the weight of the food and wine. Dark, bold, and full-bodied red wines such as Shiraz, Merlot, and Cabernet Sauvignon are often partnered with rich, fatty foods like roast beef. On the other hand, light and crisp wines such as dry, lean Chablis or the citrusy Pinot Grigio have a fresh, clean mouthfeel that make them perfect with appetizers.
Also, consider the intensity of flavors and the acidity level of the wine. Unoaked Sauvignon Blanc, for instance, has a green, earthy flavor that pairs well with asparagus, brussels sprouts, and other vegetables. Meanwhile, if you're serving turkey or roast duck drizzled with a sweet cranberry sauce, a light-bodied, fruity wine such as Pinot Noir may be your best bet. The wine's acidity level also comes into play. Let's say you're serving salmon cakes as a first course. The fatty profile of the salmon will have to be balanced out by a high-acid wine, such as a German Riesling or a Gamay Noir, in the same way that a dash of freshly squeezed lemon juice cuts down some of the salmon's fattiness.
Wines to Serve with Appetizers
When serving full-course meals, start with the lightest wines before progressing to heavier, darker reds. Chilled whites are perfect for pairing with appetizers so that guests can prepare their palate for the full meal ahead. Now is the perfect time to get out a high-quality bottle of aged vintage Champagne that's characterized by bready, nutty notes perfect for an aperitif. If you're serving a board of assorted cheeses, creamy, toasty vintage Champagne whose silky mouthfeel will perfectly match the fattiness of the cheese. For pairing with herbed flatbreads and savory crackers, fruity, citrusy wines go really well with the salty meats and earthy herbs. Go for a bottle of crisp, fresh Chenin Blanc, or if you insist on going red, choose light varieties such as Lambrusco with hints of vine-ripened strawberries and plums or non-blended Sangiovese.
Wines to Serve with the Main Course
In general, complex wines are the best pairing for beef, pork, and poultry. For traditional Christmas dishes such as prime rib or roast beef, you can't go wrong with a bold, herbaceous red-wine such as oak-aged Cabernet Sauvignon with green peppery notes or a full-bodied Shiraz with a hint of chocolate and tobacco for good measure. Sweeter reds low on the tannin, such as Burgundy or Dolcetto, are better suited for low-fat cuts such as eye of round roast and steak. Fattier cuts such as pork ribs and porterhouse steak demand a more tannic wine such as Malbec.
Other traditional dishes such as ham is sweet and strong, which means it needs to be balanced out by a sweet wine like Zinfandel, Riesling, or even tropical fruit wines such as light-bodied Moscato. You can also experiment with light red wines, such as Pinot Noir which has a smooth but subtle low-tannin finish. If you're serving stuffed turkey for dinner, Pinot Noir's strawberry and cherry notes emphasize the stuffing's warm, herbaceous flavors. Turkey itself doesn't have an overly intense flavor so you want to pair it with low-tannin wines such as Cabernet Franc or a Beaujolais.
Wines to Serve with Dessert
Sweet wines such as a full-bodied, late-harvest Sauternes are perfect for pairing with dessert. In fact, Sauternes, which contains butterscotch, caramel, and honey apricot makes a great dessert on its own. Sauternes shines when paired with meringue, lemon tarts, and custards.
Chocolate-based desserts have to be paired with low-tannin, full-flavored wines to balance out the high tannin content of chocolates. Dark chocolate treats have higher cacao content and have more tannin, making them ideal for pairing with a Zinfandel, whose complex combination of fruit-forward, fruity, and smoky flavors nicely complements the bitterness of dark chocolate.